April 9, 2018
Marian College, Christchurch, New Zealand chose their Athletics Carnival day to help the students realise the value of water in our world.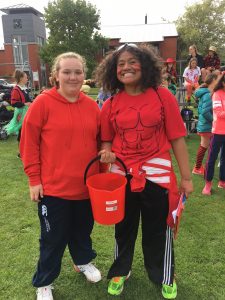 They began with a video called 'Life without Clean Water' by non-profit organisation Charity Water, which was shown at an assembly in the lead up to the carnival. The video highlights the difficulty of carrying water in parts of Africa.
The following points taken from the reading were also given in preparation:
Water conservation is a big issue in our world today.
Women in third world countries have to carry water for many kilometres each day from a well or river, because they do not have a source of water in their own community.
There is a global water crisis currently affecting many countries in Africa, as a result of climate change, drought and pollution. Although only 0.014% of all the water on earth is both fresh and easily accessible, there is enough for everyone, on a global scale.
If the current rates continue, demand will exceed supply before 2030.
In New Zealand, water is just another amenity- we have easy access to it out of our taps, and especially in Christchurch, we are fortunate to have some of the purest water in the world.
The convenience of water that we take for granted is not found in some parts of the world.
Water is an essential source of health and nutrition.
During the School Athletics Carnival, there was an extra activity. Each house group: Deans, Seymour, Takahe and Brodie, had the responsibility of carrying a 10 litre bucket filled with water, for the whole day. It was not to touch the ground, so each had to think of ways to share the holding of the bucket (passing between groups during novelties etc). At the end of the day, the amount of water remaining in the bucket was measured and the House with the most remaining was recognised.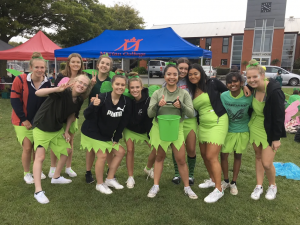 This activity was about thinking of those who do not have access to water like we do in New Zealand, and who have to travel each day to collect it.
It also takes into account the teaching in Laudato si' – On Care for our Common Home. As people that live on this earth, it is our responsibility to care for the resources on it.
Provided below, is some student feedback…
The video shown was very powerful in showing how fortunate we are to have access to clean, fresh water. While it didn't seem hard at first, carrying the bucket all day was tiring and I can only imagine how hard it must be for someone to do that everyday.
It made me think about how much water we waste and how we shouldn't take it for granted.
Carrying the bucket of water reminded me how precious water is as a resource. It was often hard to carry because the bucket was heavy so to me it served as a gesture of solidarity towards women in third world countries who have to carry water long distances.
The whole process was a great initiative resulting in valuable lessons for everyone.
Marian College
Christchurch, New Zealand