March 30, 2016
The Scottish Diaspora Tapestry is a project to involve communities around the world in the celebration of Scottish heritage and culture. The Sisters of Saint Joseph invited Sister Margaret Culhane, CentreWest Region, to sew the tapestry.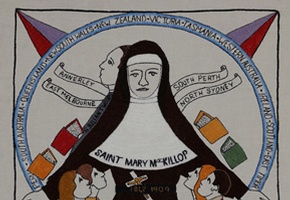 The Diaspora Tapestry is a tapestry that will recognise the contributions made by people of Scottish descent. It will feature 250 panels that pay homage to the achievements of Scots worldwide. Each panel will be 50 x 50cms, and with enough volunteers to stitch it together Scots have migrated to every corner of the globe and have often had a profound impact on the areas where they settled. Now a new embroidery project will record the stories of 25 such communities worldwide.
Sister Margaret who lives in Perth, Western Australia, (see pictured below working on the tapestry) said that "We notified in August 2013 the designer in Scotland, Andrew Crummy of our interest and gave him the link to our websites. In September he sent us a draft of the design (see above) which we suggested a few small changes. In late in September the kit arrived containing the 75 cm square of linen with the 50cm design on it, a bag of embroidery wool, a large paper print showing the suggested colours to use where, and detailed instructions of what was wanted and what not to do. It also said 'be creative!"
Over the Christmas period Margaret seriously go to work on the tapestry and finished it on January 2, 2014! Margaret shared: "Mary MacKillop is going to be one of 250 panels – 10 from Australia (I think) being invited home to Scotland for Scotland's Homecoming 2014 and displayed in Stirling In Scotland. The launch will be in May/June 2014."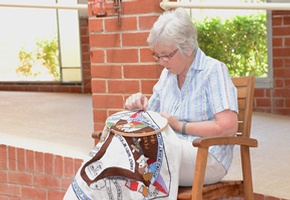 Margaret said "The moment I was asked to embroider the panel I was really excited and when I later read about "Scotland's Homecoming 2014" I could not wait to get started. It was stated that 'skill is not necessary just enthusiasm', and I certainly had plenty of enthusiasm so I set out on the project to give it my best. It has been a wonderful experience and each stitch holds part of Saint Mary MacKillop's story and the story of each her Sisters who have followed in her footsteps from 1866 to the present day".