June 3, 2010
If Mary MacKillop lived in Fitzroy today, All Saints' in King William Street would be her Parish. So, a few years ago, Mary was called upon to assist with a local problem!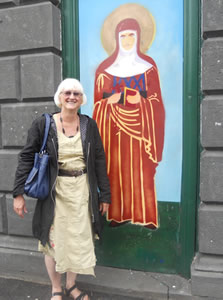 Wendy Black with the Mary
MacKillop Icon
The bluestone Presbytery on the corner of King William and Brunswick Streets was being plagued with graffiti. Mary MacKillop came to the rescue and this is how it was done. Fr. Michael McKenna (then the parish priest but now Bishop of Bathurst), in an effort to control the graffiti vandalism commissioned artist Wendy Black to decorate a consistently graffitied space that was actually a blocked up doorway.
It was decided that an icon of Mary MacKillop would to go in that space. So, Wendy got to work and made a stencil mural approx 2 metres x 80cms. It was made with many stencil cut layers of aerosol enamels, similar to street stencil graffiti.
Wendy stated that: 'It was tedious work. There are layers and layers of paint in this icon. Every bit had to be done separately.' And, as she explained: 'The process is similar to screen printing'.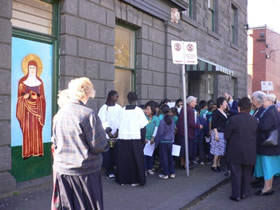 Having completed the painting, there was an official 'unveiling' by Bishop McKenna on 8th August, 2007. Five years later, the painting is showing some signs of wear and tear, but there have been no graffiti attacks since the painting was installed!
Patricia Williams rsj