June 22, 2010
Continuing the tradition which goes back many years, All Saint's Parish, Fitzroy celebrated Mary MacKillop's birthday with Mass followed by a "party" in the Parish Hall.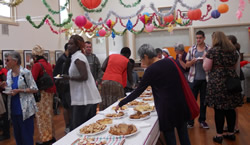 If the MacKillop family still lived in Fitzroy today, All Saints' would be their parish. Today the Parish values and is proud of their connection with Australia's first saint. Mary's birthday is celebrated in the parish each year. This year it happened to be on a Sunday. Fr. Thinh Nguyen, the Parish Priest, celebrated the Mass while music was provided by Sr. Malavisi and companions.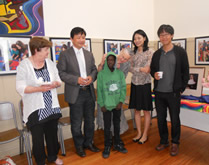 An inspirational video depicting something Mary MackIllop&rsqursquo;s life and the current ministries of the Sisters was shown at the conclusion of Mass. The first reading was that of the call of Samuel which seemed to be very appropriate as 'Speak, Lord, your servant is listening' is certainly something that would characterise Mary MacKillop.
Following the Mass, all were invited to participate in the generous hospitality provided by the Parish.