June 6, 2019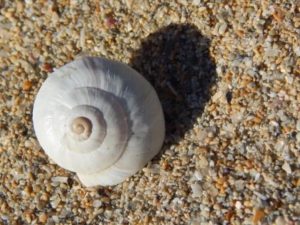 Over many months, as we have pondered Val DeBrenni's Stations of the Cross: a Journey with Saint Mary of the Cross MacKillop, we have reflected on the parallel journeys of Jesus and Mary MacKillop, and how their Way of the Cross can inspire and shape our own lives.
Last month, in our final reflection on this particular journey, we reflected on the Easter story, and how Mary MacKillop has shown us what it means to live in the light of Jesus' Resurrection.
This month, as we turn to a new source of inspiration, we invite you to embark on a new odyssey! In the coming months, we shall mine Sue and Leo Kane's The Little Brown Book Too, for the gold that they have discovered through reflecting upon snippets of letters penned by Mary, and recognising that her words, written so many years ago, can inspire us again and again in our everyday lives.
Finding God in a grain of sand…
In working for God, we must have little trials…
There's an old saying that goes: 'It's not the mountain ahead that matters, it's the grain of sand in your shoe.'
In 1873-74, Mary MacKillop had to be away from Australia. She travelled alone to Europe, an astonishing thing for a young woman to take on in those days. The 'mountain ahead' for her was getting the Sisters' Rule approved. The 'grains of sand' were the setbacks she met along the way:
Had some little crosses and was silly enough to feel very lonely and sad…
We all struggle, at times, to focus on the vision that keeps us going, especially when those 'grains of sand' bring us down to earth. But really, that can be a good thing! Because they can help to dispel unreal expectations we may have of ourselves. Wouldn't the 'music of life' be very bland without an underlying bass beat? When we try to befriend our dark moments, we can start to recognise 'God's whisperings' within them…
I am weary, but I love God's dear will…
Awaken, O love! O You who created me, return to my side; forget me not in my weakness…
---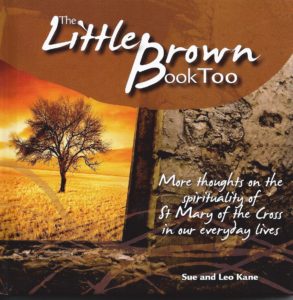 The above is an extract from The Little Brown Book Too (pages 128-129)
© Sue and Leo Kane 2011
Used with the kind permission of the publishers, St Paul's Publications
Available online and from some Mary MacKillop Centres.
---
Download the print version of this reflection (PDF)
Image: Sand, shell and shadow by Mary Ryan rsj. Used with permission.