May 24, 2019
Here in Melbourne, Australia's most liveable city, we had the official unveiling of the graphics on the exterior of the Department of Lands Water, Environment and Parks Building on Wednesday 13 March at 11.00am in the buildings newly refurbished people's foyer.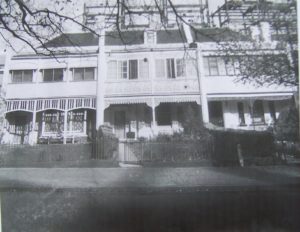 The official unveiling of the graphic of the second Providence of the Sisters of Saint Joseph in Melbourne and a corresponding graphic with an explanatory text, was hosted by Kathryn Anderson, Deputy Secretary of the Department of Environment, Water, Land and Planning.  The staff supported by the building's owners, "Dexus," were responsible for the graphic design and its installation on the corner of Nicholson Street and Victoria Parade, one of Melbourne's busiest intersections. Kathryn spoke very movingly of Mary MacKillop's life and in particular the work of Mary and her Sisters of Saint Joseph in this very poor and depraved area of Melbourne in the 1890s.
Sr Kerrie Cusack, Regional Leader of the Sisters of Saint Joseph in Victoria-Tasmania, spoke of her delight in seeing the work of Mary and the Sisters of Saint Joseph being acknowledged as part of the history of this area of Melbourne, so close to where Mary established the first providence together with a day school for the poor and needy children and a night school for young servant girls and factory workers. Sr Helen Smith spoke beautifully of a couple of 'lively' stories of occurrences recorded in Mary's own letters or in correspondence to Mary from her Sisters.
Garry McLean, CEO of the Mary MacKillop Heritage Centre thanked Kathryn and members of her department including Kelly Crosthwaite, Angelo Guastella and the Infrastructure Services Team.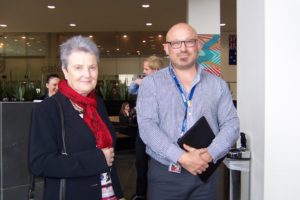 The five metre graphics face Victoria Parade. There is a photograph of the original building where the second providence was established by Mary and the Sisters of Saint Joseph in 1892. The second five metre graphic provides a written synopsis of the work of Mary and the Sisters of Saint Joseph in this area of a fledgling Melbourne in the 1890s. It also recalls the other two Providences and the final permanent St Joseph's Providence established at 362 Albert Street East Melbourne, which is now the Mary MacKillop Heritage Centre.
The windows project transpired through a chance meeting at a function between Kelly Crosthwaithe and Patricia Williams rsj.  Patricia explained to Kelly that where she worked was "Sacred Ground" because it was the site of  Mary MacKillop's Providence No. 2.  Patricia suggested that it would be good if the spot could be marked.  Kelly took up the idea and persisted with it till we have what we see here today.
Garry McLean
CEO Mary MacKillop Heritage Centre, East Melbourne
Photos courtesy of Mary MacKillop Heritage Centre Staff. Used with permission.