June 30, 2010
Now that we have passed the halfway point of the year, we thought you might like an update on our activities here in Quilpie.
Anne (Hoey) and I have an involvement in the school as well as the Parish. Anne provides Learning Support to the students at St Finbarr's and I am the APRE (R.E. Co-ordinator), working with the teachers and students in Religious Education. I also travel to schools at Cunnamulla, Charleville and Mitchell to work with teachers in encouraging and supporting them in the Mission and Identity of the Catholic School. We enjoy our involvement with the children and teachers.
As there is no resident Priest (or Minister of another faith) in the town, we work with St Finbarr's Parish, our visiting priest, Fr. Peter Doohan from Charleville, Rev. John Case from the Uniting Church and our Anglican visiting priest, Fr. Charlie Murry also from Charleville, to gather the town and parish community for significant occasions. Recently, the Anglican Bishop of the western region, Bishop Rob Nolan, rang us to arrange a time for a church service and to gather the community for his visit. The Parish community gathers for Mass one Sunday a month, an Anglican Service one Saturday a month and a service of the Word with Communion which we organize. We are building school-parish relations by inviting parishioners to school celebrations and events and by including school participation in parish events. Our school gathering for Ash Wednesday was also the Parish celebration. Fr. Jeff Scully came back for the Easter ceremonies, beginning with an Ecumenical Palm Sunday service for the Quilpie Community. Thanks to Anne, we are able to participate in well organized and reflective liturgies.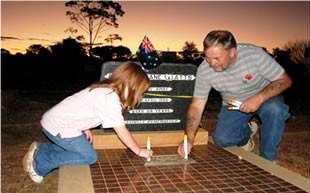 We also gather the community for special events. This year the Quilpie Shire Council invited us to organize an Anzac Eve 'Service of Light' at the Quilpie Cemetery to honour the service personnel buried there. This was a well attended service at sunset – a moving experience for all involved.
We were also able to arrange a prayer reflection for International Women's Day which was held at 'Fresh on Brolga' – our flourishing coffee shop. The 40 or so women who participated were most appreciative and very willing to share readings or prayers.
Anne adds a pastoral dimension by visiting the elderly in their homes. Her visits are always welcome. For 9 years, the Community had prayed for rain, so the widespread rains here at the beginning of February were welcomed with relief and thanks. Quilpie was cut off for a while. There was no damage to the town as it is perfectly safe on a hill! Our neighbours in Charleville were not so fortunate, Fr. Peter is still without a home and St Mary's Church and School were seriously damaged.
Anne and I are well settled in our new home, and are looking forward to the arrival of a number of Sisters for our 60 years of St Finbarr's School celebrations in July.
Margaret Andersen rsj