August 8, 2018
Greetings on the feast of Saint Mary MacKillop.
On this feast day let us pause and reflect on the wisdom her life experiences offer to us in this time.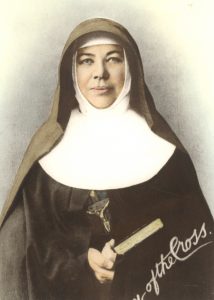 Mary MacKillop is a woman who dared to believe in her dream and to trust in God. Her life as a woman who lived the Gospel faithfully and who today we would call a missionary disciple, gave her the courage to trust in God, to take risks and to break boundaries. It called her to travel down rough roads and on stormy seas into places well beyond her imaginings. Her presence brought an explosion of God's love to the most needy in Australia and beyond, thus improving the lives of those who were poor. She was a woman before her time with an incredible vision. She walked our land, knew our stars and read the signs of the time. She is indeed a saint for all people.
As we celebrate Mary MacKillop's feast day in 2018 we are mindful of the many farmers facing the experience of the worst drought in history. Mary MacKillop had a special place in her heart for people living in rural and isolated communities as once an elderly citizen of a western town community told me: 'Mary MacKillop is a woman for the bush'. May Mary MacKillop's capacity to persevere in the face of adversity bring hope to all those communities struggling in this crisis. It challenges each one of us to ask ourselves how can I support these families in this current reality? During the feast day Masses at Mary MacKillop Place, North Sydney a special collection will be taken up to support the St Vincent de Paul Drought Appeal.
This week in the church is also known as National Vocation Awareness Week. It is a time when we remember and celebrate that through baptism all are called and chosen to become missionary disciples. For Mary MacKillop, this response to God's invitation came as a call to live her Christian life as a Religious Sister. She wrote to her mother:
Tis true I only seek to serve God in the care of the little ones of God's flock and for this I have forsaken all.
During this week, as each one reflects on the vocation to which God had called each person, let us, like her, be thankful for the vocation to which we have been called.
As our church prepares for the Plenary Council in 2020 we recall that Mary MacKillop was a woman of the church. At times she missioned her sisters to go to places where there were no formal church structures and encouraged them to be the heart of God's love and the face of the church in those communities. For Mary MacKillop the church was about people. Belonging to the church community was an essential aspect of who she was. She knew through her experiences both the strength and weaknesses of those who held positions of authority in the church she loved. She struggled at times to make sense of its reality yet she continued to step out with faith and hope.
There were times when she felt completely overwhelmed by all that assailed her and she felt like giving it all up. Today our church community is battered and bruised because of its failure to attend to the cries of so many victims and survivors effected by abuse. Like Mary MacKillop, how can we be people of healing and hope in a church fractured by such abuse, division and hurt? In this listening phase of the Plenary Council let us create spaces where people can share their experiences so that through Christ's healing presence a new moment may emerge from amidst this current pain and suffering.
On this feast day let us pray that each one of us will receive a double portion of her spirit as we step forward and find our path in the world of today.
Sister Monica Cavanagh rsj
Congregational Leader