September 2, 2018
The article below is adapted from a speech given by Sr Mary Ryan on Saint Mary MacKillop's Feast Day at St Francis Xavier's Cathedral, Adelaide on 8 August, 2018.
---
In March 1891, just 25 years after the Josephites' very humble beginnings in Penola, Mary MacKillop wrote a letter to the Sisters in which she said:
Little did either of us dream then of what was to spring from so small a beginning… God has done wonders for us…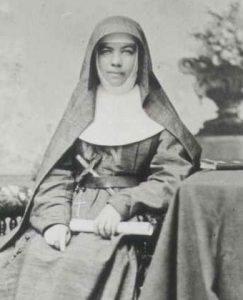 On that day in 1891, little could Mary have dreamt that:
In 2018, her sisters would be living and ministering in all states of Australia, and in six other countries
Three popes would have visited her tomb at Mary MacKillop Place
In October 2010, she would become Australia's first canonised Saint – with 8000 Aussies gathering in Rome to celebrate her, and countless others glued to TV screens across the world
In recent times, Governors, Premiers, Parliamentarians and Prime Ministers would have spoken of, or written about her
Most Australian churches and Cathedrals would have her image enshrined a prominent place
In 1891, how could Mary have ever imagined that:
In 2018, there would be numerous parishes, schools, colleges, buildings, parks, some bridges, a peninsula – and even a Sydney ferry, and a tourist bus named after her?
Her story, spirituality and legacy would become the inspiration for authors, poets, song-writers, film-makers, musicians, artists, potters, and lead-lighters!
There would be all kinds of memorabilia that bare her image, her signature or her words
There would be a Foundation called Mary MacKillop Today raising funds that make a huge difference to the lives of the less fortunate in Australia, and five other countries
She would have her own Wikipedia and website pages – with hundreds of people connecting with her online every single day – and many making virtual visits to pray at her tomb in Sydney
What is it about Mary MacKillop that inspires so many people?
Why do so many people pray to and with her?
Why are so many gathered in so many places today to celebrate her feast-day and honour her memory?
While so much has been written and said about Mary, I believe that the words of two Popes and our own State Governor of South Australia give us strong clues about why she touches the hearts of so many people – regardless of their age, gender, culture or religious background.
Pope John Paul II summed her up:
Mary MacKillop embodied all that is best in your nation and in its people.
He urged us to:
…learn from her (Mary) to be a gift of love and compassion for one another, for all Australians – and for the world.
 Pope Benedict XVI said that:
Mary MacKillop is one of the most outstanding figures in Australia's history.
I know that her perseverance in the face of adversity, her plea for justice on behalf of those unfairly treated and her practical example of  holiness have become a source of inspiration for all Australians.
Generations have reason to be grateful to her.
Our Governor, Hieu Van Le, also admires Mary. He loves her resilience, and sees her as: 'a woman for all Australians' who is a relevant role-model for us ALL today.
The Sisters of Saint Joseph and many other people, believe that Mary's is a story that must be told.  And where better to do this?
Here in Adelaide, we have a very sacred site: the land on Portrush Road, Kensington, where Mary lived for eleven years until 1883.  Here we welcome people to:
St Joseph's Chapel, much loved by Mary, where she spent many hours in prayer.  An 'oasis' in a noisy world,  it is open to the public daily
Our Conference Centre called 'Bethany' – which hosts a whole range of spirituality and personal development programmes
Mary MacKillop Museum, which is currently closed for redevelopment. We're planning to tell Mary's story in new and exciting ways.
The redeveloped Mary MacKillop Museum Adelaide will be a contemporary interactive, inspirational, place that will engage visitors of all ages, cultures and beliefs, inspiring them to reach out in a spirit of care and compassion.  Like any worthwhile project, considerable funding is needed. A fundraising campaign has been established. Like Mary MacKillop and her early Josephites, we're 'begging'! We are seeking financial support from those who understand the importance of promoting Mary's legacy – because they recognise the significance of her story, and the impact it still can have  on the lives of countless people – here and abroad.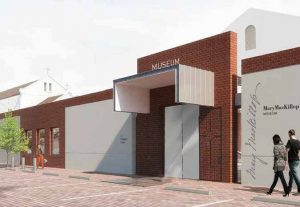 You are each invited to be part of this vision.  If you wish to donate, you can do so online using the link below, or by contacting the Josephite Regional Office, 4 High Street, Kensington, 5068: email or phone: 08 8130 5900.
Your generosity will be so appreciated!  Every little bit helps!
Mary Ryan rsj
Read an alternative version of this article on 'The Southern Cross' website
Visit the Mary MacKillop Precinct website
Click here to donate to Mary MacKillop Museum