May 12, 2018
I'd like to share with you a few thoughts about this very beautiful carving of a Madonna by the Aboriginal artist, George Mung.

It looks to be such a simple work of art, but it captures for me the essence of the spirituality of motherhood. You'll notice that the child in Mary's womb has been placed just below her heart, and takes up quite a large amount of space. As any mother knows, this is exactly right, because her heart will forever be given to this little, as yet unborn one. And that same heart will be stretched to capacity by the love evoked by her baby.
It's quite moving to gaze at the figure of the baby, and to see the jubilation he feels, safe in the knowledge of her love and protection. The mother's arms are wrapped closely around him. For it is the charism of mothers to value and cherish the little people of this world, and to nurture them along the road of life. And as the saying goes, this will mean loving them 'to the moon and back'.
The mother's face tells its own story. She seems to be looking inward, aware, no doubt, of the enormity of her role. What will be asked of her? At the same time, she breathes a strength and a serenity, which characterise those whose job it is to protect the innocent and the vulnerable.
Can there be anything more in keeping with the gospel than this calling to motherhood, which asks everything of those who embrace it? The bond between mother and child is so great that the artist depicts the two as almost one entity, the baby within the mother, like a Russian nesting doll. It's an all-consuming love. We've all witnessed the countless ways that mother love finds expression, so it's no wonder that Julian of Norwich was moved to remind us that 'God is our Father, so truly God is our Mother'. What we know of mothers helps us to better understand the tenderness of God.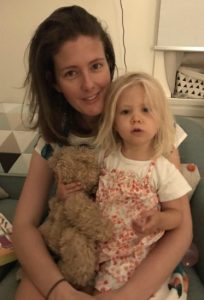 It seems rather odd, and somewhat unfortunate then, that what we learn from mothers fails to make its mark in our public discourse. Mother-love, after all, is a pretty universal phenomenon. Unfortunately, most mothers are just so busy with all the calls upon their time that they often don't make it to the upper echelons where the big decisions are made. Is that one reason why the plight of the' little people' so often gets overlooked?
There seems to be a collective amnesia, on the part of our policy makers, about what their mothers taught them. I like to think that if more mothers were to have a say, our policies might reflect more heart and more compassion. Imagine for a moment what the wisdom of a committee of mothers would have to say about the issue of children in detention! Yes, 'little people' will always need someone to go in to bat for them, and who better than mothers to help with this task
Sue Kane
Read another reflection on Mother's Day here (PDF)
Images provided by Sue Kane. Used with permission.