August 3, 2018
National Vocations Awareness Week
In May, we farewelled a much-loved Queensland sister. Sister Patricia died four months into her 71st year as a Sister of St Joseph, a journey she began as a 15 year-old.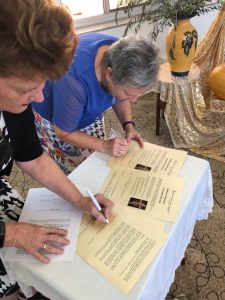 In National Vocations Awareness Week, in the Year of the Youth, I wonder:
What captured Patricia's heart as a teenage girl?
What energised Patricia as she embraced new ministries?
What sustained Patricia as poor health brought many changes to her life?
I believe joy captured her, a deepening trust energised her and her dependence on a Provident God sustained her. Patricia, in living her vowed life, expressed her own Annunciation. She said 'YES' no matter where or in which ministry, no matter with whom or through what joys and challenges.
I am in the youth, not of my life, but of my Covenant with God and my Affiliation with the Sisters of Saint Joseph. I too, with a deepening joy, trust and dependence on our Provident God give my daily 'YES' to what I have promised.
In 2015, when I asked, and was accepted, to discern a call to a Josephite Pathway, I was appointed a sister as a discernment guide and a community to accompany me. However, before my formal discernment began, I stepped away from the busyness of life to quietly reflect on the Spirit's awakenings. I set off in mid December for a few weeks in Europe and the United Arab Emirates (UAE).
Along walking tracks in Germany's Black Forest, I was surrounded by living prayer. As leaves crunched underfoot, this season of winter called me to let go and be breathed on by the Breath of God. A deep and certain peace enveloped me.
In Italy, Assisi's olive groves provided places of silence and solitude. They shared with me their truth, that our Creating God is ever holding us, in every season of life, in exuberant inexhaustible love.
Finally, I withdrew to the Liwa Desert of the UAE. Alone, I climbed high dunes to experience sunrises and sunsets and sat in awe in the vastness of this silent, ever moving landscape which sang of a God of Mystery and Providence. If what I was seeking was 'of God' then:
God would provide.
The first stage of the discernment journey was to 'Come and See' the Josephite Charism. After time with my guide and experiencing hospitality, conversation and prayer in community, I asked to 'Enter the Land' where as much time as was needed was given to discerning which pathway, if any, was God's invitation to me.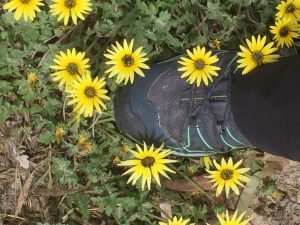 I was drawn to the pathway of 'Covenant with God and Affiliation with the Sisters of Saint Joseph' and in October 2016 I made my first commitment. In March of this year, I expressed my Covenant and Affiliation in a more permanent way. At this ritual, our Regional Leader (TransPacifico) missioned me to Pastoral Ministry in Queensland and she named various ways I express my Affiliation with the Congregation.
My Covenant with God, though publicly named, is a very personal response to God's unique, unrepeatable expression of Covenant Love for me. Since walking the Camino de Santiago last September, a particular reading helps me live out my covenant commitment.
Each day, I bring to mind lines from the Book of Haggai: 'Think carefully about your behaviour. Go up into the hills, fetch timber and rebuild the house and I shall take pleasure in it.'  It calls me daily to be intentionally attentive to how and why I respond as I do and in the evening it draws me to reflect, 'Was God in the going, the fetching and the rebuilding of this day? Will God take pleasure in my day?'
So, in this Year of Youth, this time of my youth with the Congregation, how do I live my commitment as a Josephite Affiliate? As Sister Patricia did in her lifetime, I seek to be:
Captured by the joy of the Spirit, energised through trust in the Word and sustained by dependence on the Provident One.
Kathryn Downing
Covenant Josephite
View photos from Kathryn's travels and journey…