January 12, 2018
Never see a need, an evil, without doing something about it.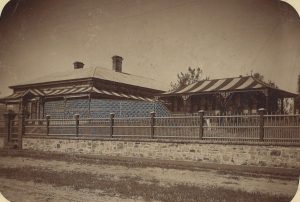 Such was the enthusiasm of the founding Josephites that, despite their already having charge of the Refuge and four schools, in January 1868 they undertook the management of the local catholic orphanage. At the time there were twelve sisters and it was just six months since their arrival in Adelaide.
In August 1866, the diocese had founded this orphanage in suburban Walkerville. There were no religious sisters in the diocese, and so it employed a lay matron to superintend the place.1
The work began slowly—only four children had arrived there by the end of 1866. 2
Then a change occurred. The South Australian government pressured the diocese to accept all the Catholic children from the state-run orphanage at Brighton because this overcrowded place was virtually falling down. Its water supply was inadequate. There was insufficient clothing or bedding to go round. The children were herded into filthy rooms. Many were seriously ill. Fourteen died between February and August 1867! 3
The government became desperate when knowledge of this situation became public. The ensuing outcry roused it to action and one outcome was the transfer of all Catholic orphans from Brighton to Walkerville, offering a weekly grant of five shillings per child as an incentive.4 The church received these children willingly even though it had to make up any shortfall in costs out of its meagre resources. Its members were generous, however, and as a consequence, the children received adequate care.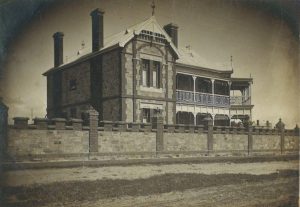 Even so, their living conditions were less than ideal and so the Church appealed for funds for a new building. When that failed, it secured another house for rent, this time in the city centre5 and invited the Sisters of Saint Joseph to superintend it. Mary MacKillop and Father Woods agreed that two sisters would supervise this second orphanage in the same way as they did the Refuge, while lay staff lived in on a permanent basis. The girls from Walkerville moved into this building and thus began the long association of the Sisters of Saint Joseph with the orphans and destitute children of Australia.6
The Church had this orphanage gazetted as an Industrial School in the hope of attracting further government assistance. However, such aid was spasmodic and within four years it had ceased altogether because the government maintained that it now had sufficient places for all orphan children and so was not obliged to support privately run institutions.7 For their part, the catholic community was determined to receive every catholic orphan in the colony. As one writer put it:
 The work had begun without prospect of government aid and would continue without it.
8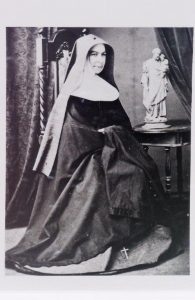 These were brave words, but spoken with confidence because firstly, South Australian catholics were willing to support the place and, secondly, the Sisters of Saint Joseph were in charge there. In fact, in June 1868 two Sisters had moved in. They quickly gained a reputation for keeping everything in perfect order and cleanliness, and achieving the moral and disciplinary training and successful advancement of the children.9
Even so, overcrowding remained a problem, especially at Walkerville. Therefore, the Church amalgamated the two branches of the orphanage and moved the entire institution to a large property in Franklin Street. Subsequently, two or three Sisters of Saint Joseph resided there permanently.
Among them were two who were remarkable for their care of orphan children. They were Sister Thecla (Catherine Harding) who had been a servant at Walkerville. She worked with the orphans until December 1889 when she transferred to the convent at Kensington.10 The second was Sister Philippa (Johanna Callaghan) also a former servant.11 Sister Francis Fitzgerald, who then had charge of the institution, wrote:
Dear S. Philippa is so useful and good that I have always her to depend on. Indeed I do not know what the Boy(s) would do but for her. They are so different now. No running away, no chiding, no need for caning, and she studies and knows their wants. She takes (an) interest in them.
12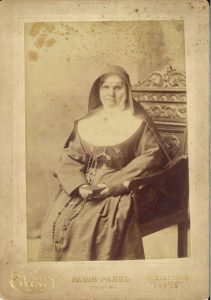 Over the years 1868–1888, the Sisters had to move the orphans several times, mainly because of overcrowding. During this period they faced a constant struggle to make ends meet. In fact, it appears that they owed their survival to the tea, sugar, groceries and bread that they received from the Providence regularly.13
Eventually, in 1888, thanks to a legacy from a Mr McBride, the Catholic Church purchased a large building known as Holyrood House in suburban Goodwood.14
This well-appointed property was a source of real pleasure to the Sisters and orphans and, as they settled into their new home, the former looked forward to a secure future.15
That, however, was not to be, for in December 1889, just over a year after the Sisters had moved into their new home, Archbishop Reynolds ordered them to leave it He announced that, on New Year's Day 1890, the Adelaide Sisters of Mercy, a community also devoted to the care and education of the poor, were taking it over. He claimed that he had experienced some difficulty in his dealings with the Sisters of Saint Joseph, some of whom, so he said, had set him at defiance during the previous eighteen months and hence, that this change was in the orphans' best interests.16
The archbishop's action hurt the sisters deeply. Their only consolation was their knowledge that the children were in good hands. As for themselves, their hurt was so deep that they suppressed all memory of their connection with this place. Ninety years were to pass before later generations of Josephite sisters learnt of this episode in their history.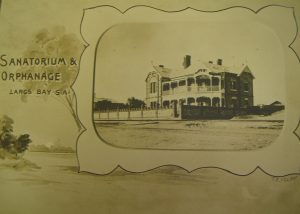 When the sisters left Goodwood in 1890, they must have felt that their association with the orphans had ended. In 1903, however, Archbishop John O'Reily invited them to supervise a sanatorium or rest home for women and children requiring rest and sea air in quiet and congenial surroundings. There were few financial worries at this place for those using it paid for the care they received.17
The sanatorium proved popular and so the Archbishop acquired a large house in Kalgoorlie Street, Largs Bay at some little distance from the sea and it soon became a shelter for homeless children and a haven for women of moderate means who required a stay at the seaside. Right from the start the care of homeless children received first priority and before long it became a second catholic orphanage.
This place soon became overcrowded and so the archbishop intervened once more, this time by purchasing a large house on the corner of Harrold Street and the Esplanade at Largs Bay. The Sisters and children moved there from Kalgoorlie Street in October 1907. They settled in quickly and from then on they cared for children only.
On 26 June 1906, Mary MacKillop wrote to the Archbishop:
I am only too happy to fall in with any arrangement you will make about the Orphanage. My sympathies were never much with the Sanatorium. Though a good work it seemed to work for the benefit of the rich, and not for the poor who are our special charge. But for the orphans whose loss we felt so deeply to come to us again is a real pleasure.
The Largs Bay Orphanage began with the blessing of Catholic Church authorities. It had a more secure financial basis than their former orphanage did and it flourished from the beginning. The sisters carried on the same tradition of order, cleanliness and personal care as had characterised their previous orphanage work and received many applications for admission.18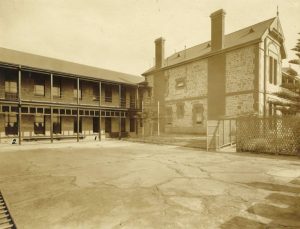 By 1912, they were refusing as many children as they were accepting because of lack of space. Thanks to generosity of the catholic community, the sisters erected a new schoolroom which opened in May 1912. As always, they relied for their support on the Providence work of begging and the occasional bequest that came their way.19
A major change occurred following the arrival of Archbishop Matthew Beovich in Adelaide in 1940 for he rationalised the management of the children's homes and orphanages in the diocese. As a consequence, by June 1941 the Josephites were left with only boys aged between three and twelve years. Subsequently, changing emphases in childcare gave rise to further reorganisation of the orphanage and to its eventual closure at the end of 1980.
In the meantime, the Sisters were also involved in the care of orphans in both New South Wales and Victoria but these institutions also closed as about the same time as St Joseph's at Largs Bay.
Even so, the Sisters have maintained their involvement in childcare, particularly through bodies such as MacKillop Family Services in Victoria.
There is still a need.
They still do something about it and that is all that matters.
Marie Foale rsj
References:
1 Southern Cross and Catholic Herald (Subsequently SCCH,) 20 September 1867; Adelaide Observer 25 August 1866.
2 Orphanage register, 1866–1879. Adelaide Catholic Archives
3 South Australian Parliamentary Papers, (Subsequently SAPP) 1868, no. 91; 1869–70, no. 121.
4 Register, 14 March 1867. This was a departure from SA government policy for at its foundation, this colony had adopted a system where there was freedom of religion but where the government did not support individual churches in any way.
5 SCCH, 20 September 1867, p. 9.
6. SCCH, 20 January 1868.
7 SAPP 1869-70, no. 121; Destitute Persons' Relief Act, 1872.
8 SCCH, 20 May 1869.
9 SCCH, 20 August 1868.
10 Records of the Sisters, 1867-1910, entry no. 47.
11 Sister Monica Phillips to Mary MacKillop from Willunga, 27 August 1868.
12 Sister Francis Fitzgerald to Mary MacKillop from the Orphanage, 10 June 1870. Sister Philippa spent most of her life caring for orphans, firstly in Adelaide, then at Kincumber in NSW and finally in Melbourne, Victoria.
13 Each day the Providence Sisters went out and begged local businesses, shopkeepers and Adelaide Market stallholders for money and goods for the support of the Providence and the Orphanage.
14 SCCH: 20 October 1868; Catholic Monthly 12 April & 5 July 1888.
15 Mother Bernard Walsh to Reynolds, 21 December 1889.
16 Reynolds to Mother Bernard Walsh & Sr Maria Skudder, December 1889.
17 Southern Cross, 22 May 1903, (Subsequently SC) p. 317
18 O'Reily, The Catholic Charities in South Australia, Adelaide 1911.
19 SC, 16 & 23 November 1917.