In 2016… Preparing for the seed to be sown…
Gardening is an active participation in the mysteries of the Universe.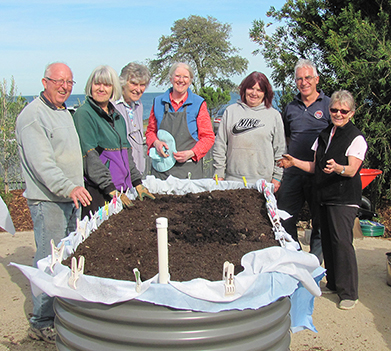 In 2020…
Every existence is a mode of divine presence.

Working on The Permaculture Principles of Organic Gardening, we have transformed our garden into using "No dig" systems that utilise all composting materials – cardboard, papers, prunings and lawn cuttings…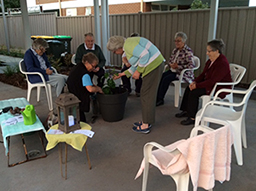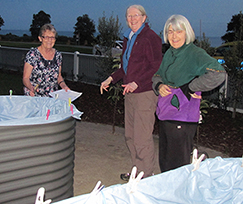 In developing the garden, we hope it will be a space of beauty, celebration and learning.
The sacredness of this space will reflect the sacredness in all life that surrounds us— the birds, the sea creatures, the ancient she–oak, the lava blister, the human.
Worm Farms:  These are delight in our gardens.  They are an efficient way to reduce household waste and provide nutrient rich fertilizer for the garden.   We have two worm farms and are now putting "worm homes" straight into our garden beds.
Educating heart and mind in the Cosomological approach to the 13.7-billion-year Universe Story:
We do this through:
Earth Rituals
Contemplative Reflections
Earth Retreats
Workshops
Visible sustainaility practices at our Centre:
regular assessing of our strategic plan
House recycling and compost bins
Utilizing herbs and natural oils in our cleaning products
Craft workshops teaching how to create environmental ways of doing things, e.g., Beeswax Wraps
Less/no use of single use plastics
cooking from garden produce
The Song of the Bay is heard by every listener.
Our Mission is living in relationship with Earth our home. celebrating the wonders of the Universe and Earth, by living in an awareness of our Earth friendly environment.
kitchen and compost bins
herbs instead of sprays
eucalyptus spray and natural spices