Inspiration in Practice.
Mount Saint Joseph, Whanganui was a property which the Sisters purchased for the purpose of a novitiate in 1949. It included a small farm which provided milk for the Sisters and college boarders until pasteurised milk became the norm.  The Sisters then sold most of the land to build a Rest Home for elderly Sisters.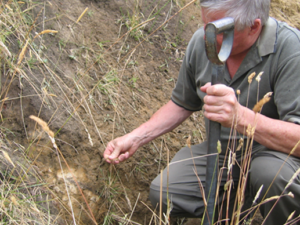 Forty-four-years after my novitiate days, I was living at Mount Saint Joseph again, when a neighbour offered to sell the valley below to the Sisters. We recognised that this was an opportunity to live out of our 2007 Chapter Vision – Kī tonu to au me te orokohanga a te tangata – Fullness of Life for the Earth and its Peoples.  We decided to restore the wetland in the valley.
After good advice and lots of research about wetlands, we made funding applications and drew up a plan. We were looking for someone to guide our work.
One of the Sisters met Ian Moore, a local forester and land consultant whom, she was told, "knew more about the Whanganui bioregion than anyone".  He had already created wetlands at 'Longacre,' his own forestry block south of Whanganui.
In an interview Ian said: "I look at land and immediately I think of Mother Earth, the relevance of time and processes, why and where it is. I see the forces that have made it what it is and I computerise in my mind its potential capabilities. I try to integrate the local bioregion-climatic components with the biodiversity above and below the surface, together with the economic, social and cultural demands of the local community, balanced by the realities of the developing world."
The project began with Ian's advice about the structure beneath the soil and how to work with it, what and where to plant so that the polluted waters flowing through could be filtered; how to create deeper pools for sediment to settle rather than flow on into the streams and the Whanganui River. This water body would provide a much-needed nursery habitat for native freshwater species of eel, mussels, fish, insects and waterfowl.  We needed to create safe walking access on the steep hillsides so that planting could be done by Sisters, local school pupils, volunteers and our main labour source, the men and women doing 'Correction Community Hours'.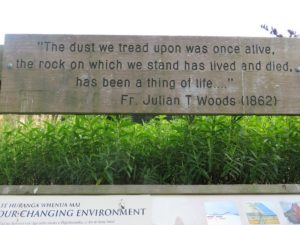 As we listened to Ian talking about the "The Geological Story of Whanganui" Julian's writing about Australian geology inspired us to make public his statement by putting it on our wetland sign:
But these revelations, small as they are,  stretch far beyond our comprehension… Julian Tenison Woods
Our local botanist, leading a group of naturalists through the wetland, was taken by Julian's story.  A few years later, he and his wife were exploring the volcanoes of Australia.  At Mt Gambier, their guide asked if anyone had heard of Fr Julian Tenison Woods. The New Zealanders did and were pleased to talk about the Sisters of Saint Joseph and their wetland dedicated to Julian Woods.
TENISON WOODS RESERVE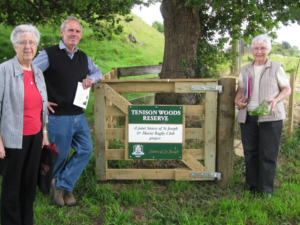 In 2014, we marked Julian's 125th Anniversary by working with the Marist Rugby Club, to restore an awkward slope beside their fields. The reserve was blessed with ancient water which arises from a spring connected to the wetland nearby.
Questions of ultimate meaning and value are dealt with in serious contemplation in the context of the actual universe, a universe of stars, topsoil, amphibians and wetlands.
Brian Swimme, p10 The Hidden Heart of the Cosmos
Noelene Landrigan rsj