The Confluence of Julian's Life in France with Josephites Today.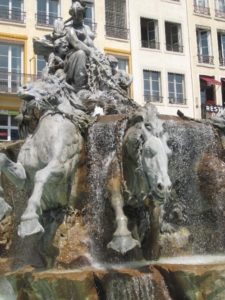 This fountain, in Lyon, created by Frédéric Bartholdi, depicts France as a female seated on a chariot and controlling the four great rivers of that country, La Seine, La Loire, Le Rhône and Le Garonne, each represented by wildly rearing and plunging horses.
I will share the 'confluences' between the Josephite Story and Julian's that I noticed when I visited France in 2013.
UPLIFT: Explorations in  France
In July 2013, Mary-Ann Casanova and I arrived in Lyon, France. On reading the description on the fountain during our day of sight-seeing, I wondered what it would be like to compare our streams of consciousness: our pre-conceptions, rumours, myths, stories or comments about Julian. Mary-Ann and I hoped to discover places where Julian had spent some time, what he felt and thought, what problems he had, his ambitions for the future and the later real-life application he made of his religious and scientific formation in France.
FROM THE DEPTHS: Connecting with the Divine
We went to see the ancient shrine of Our Lady of Fourviére three times. We watched the stream of people visiting this shrine, which was dedicated in 1170! We saw plaques with familiar names including, 'Mary's Men and Women', who were keen to do Mary's work as missionaries to Oceania and other parts of the world. Marists I knew and worked with were surprised whenever I claimed links with Marist spirituality.  I think Julian already had a personal 'shrine in his heart' and a strong devotion to Mary which was nourished amongst the Marists in France.

GOLDEN SPIKE: Transitional Moment
Like Julian, it wasn't in the city we felt at home. It was going to explore the village of Ars, about 30 km from Lyon, by train and bus. We loved the brightness of the sky, the colours of the crops, the sunflowers. The landscape was awesome with rolling hills, blue in the distance, the 'sounds' of green, and the many shades of blue in the streams and rivers. In Ars, where the Curé, Jean Vianney, lived a sparse life, we found 'La Providence', a house founded by him in 1824.  When the parishioners complained to him about how much it was costing them, the Sisters of St Joseph took over and were there when Julian visited.  It is now a retreat/reception centre for pilgrims and is still run by Josephites from around the world. I had presumed the House of Providence, in Adelaide, was Mary MacKillop's idea.  However, there is no doubt that it was the inspiration of Julian who had seen Sisters running La Providence at Ars.   The conversation between the Curé and Julian during their meal remains between the two of them. I like to think that this may have been the point when Julian learned to trust in the providence of God, a Christian, a Marist and a Josephite value.
Noelene Landrigan rsj