Father Woods' Park is situated a short distance from Penola on the Riddoch Highway and is a very popular site for tourists.
Every rock, every leaf, every insect has something beautiful, nay, wonderful to tell.
The park is dedicated to the memory of pioneering Catholic Priest, Father Julian Edmund Tenison Woods who ministered in the South Australian South East region from 1857 until 1867.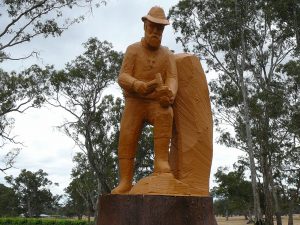 On Sunday May 23, 2010 Archbishop Philip Wilson unveiled tree sculptures depicting various aspects of the life of Julian Woods: as co-founder with Mary MacKillop of the Congregation of the Sisters of Saint Joseph; his work as priest-educator travelling on horseback over vast distances of the South East; and his scientific and geological achievements.
Sculptor Kevin Gilders, using chain saws, was the creator of the original carvings.  Due to the destructive work of longhorn beetles some carvings have been restored.  This work was carried out by Ant Martin from Millicent.
The Park is on land donated to the Archdiocese of Adelaide by Mr Jack Gartner in recognition of the work done by Father Julian Edmund Tenison Woods in this region.
View more on Father Woods Park
Page last updated January 2018