Mary MacKillop was canonised on October 17, 2010 at Saint Peter's Basilica, Rome. Pope Benedict XVI proclaimed Mary's sainthood during a Canonisation Mass, in the presence of many thousands of people and streamed live around the world.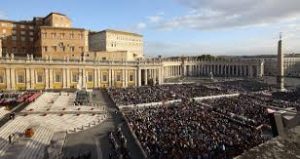 Even before her death Mary's extraordinary life and faith were widely acknowledged throughout Australia and beyond. It was this widespread recognition which led her Josephite Congregation, the Archbishop of Sydney and the Conference of Australian Bishops to request that Mary's holiness be acclaimed by the wider Church.  Mary was beatified in Sydney on January 19, 1995 by Pope John Paul 11. This took place in the presence of many thousands of people who had travelled from all over Australia, New Zealand and many parts of the world. Her canonisation in Rome followed 16 years later, giving Australia its first canonised saint.
Since then people from many cultures, from different faiths and traditions, and from all walks of life have been inspired by her example of faith, service and love for all.
Mary MacKillop's tomb is venerated at the Mary MacKillop Memorial Chapel, Mount Street, North Sydney. Pilgrims visit this site daily to pray to God, through her intercession, for their needs. On the 8th day of each month many hundreds of pilgrims make their way to this shrine. Her feastday  is celebrated on August 8th each year in parishes and communities all over Australia, New Zealand, Ireland, Scotland, Peru, Timor- Leste and in many other places where Mary's followers are found. She has been named patron of dioceses, parishes, charitable works and institutions across the world.
Mary's canonisation has proved to be a powerful impetus for many of the world's people in their efforts to recognise God in all of creation and especially those of the human family who are dispossessed and marginalised. Her spirit seems to act as a magnet for all who seek God.
Page last updated May 2016