Mary MacKillop was canonised on October 17, 2010 at Saint Peter's Basilica, Rome. Pope Benedict XVI proclaimed Mary's sainthood during a Canonisation Mass.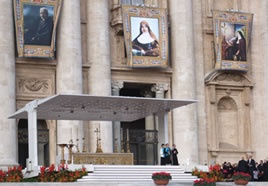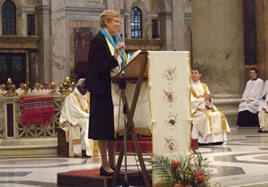 Over 8000 pilgrims from Australia and New Zealand attended the ceremony.
The Church does not make a saint – it recognises a saint. Canonisation is the act by which the Holy Father declares in a definitive and solemn way that a Catholic Christian is actually in the glory of heaven, intercedes for us before the Lord and is to be publicly venerated by the whole Church.
Canonisation is a double statement – about the life of the person and also about the faith of the people who are alive at this moment
They are as much a part of the canonisation as the person who is being recognised.
Many beautiful and inspiring words were spoken by Church leaders during the Canonisation of Mary MacKillop and the surrounding events.
You are invited to read and reflect on the texts below:
Read Cardinal George Pell's homily at the Thanksgiving Mass – St Paul's Outside the Walls
Readings by Sr Judith Sippel and Sr Katrina Brill before the Canonisation Mass 
Read an extract from Pope Benedict XVI's homily at the Canonisation Mass
Read Sr Maria Casey's words of welcome – Thanksgiving Mass – St Paul's Outside the Walls
Read Sr Anne Derwin's Welcome at the Vigil Celebrating the Life of Mary MacKillop
Read Sr Anne Derwin's Vote of Thanks – Mass of Thanksgiving – St Paul's Outside the Walls