Canonisation of Blessed Mary MacKillop
October 17, 2010 Place: St. Peter's Basilica, Rome
09.30am
The reading of a brief biography of each Blessed being canonised was read
The preparation for the ceremony featured short readings or prayers written by the Blessed. These were read by Sisters Judith Sippel and Katrina Brill
At this point there will be a prayer or hymn (chosen to fit the biography which has been submitted by each Postulator).
10.00am
The Rite of Canonisation – the Mass celebrated by the Holy Father
The pope begins with a greeting.
The Prefect of the Congregation for the Causes of Saints accompanies the Postulators to the Holy Father and requests the Holy Father to proceed with the Canonisation of the Blesseds using the formula: Most blessed Father, The holy Mother Church, asks your Holiness that these blessed ones be written in Book of Saints and thus be invoked as such by all Christians.
The Prefect then presents a brief biography of those to be canonised.
Prayer and Litany of the Saints follows with the concluding prayer to the Litany
THE HOLY FATHER SOLEMNLY PRONOUNCES THE OFFICIAL FORMULA OF CANONISATION. ALL RESPOND with the sung AMEN
The relics of the Saints are placed near the altar
The choir /cantor sings alleluia three times
The assembly repeats the above alleluia three times
The choir/cantor sings a brief acclamation.
The Prefect thanks the Holy Father and asks that arrangements be made that the Apostolic letter be written regarding the Canonisation
Holy Father responds – may this be so!
The Prefect and the Postulators exchange a sign of peace with Holy Father
THE EUCHARIST FOLLOWS AS NORMAL – the Gloria, the opening Prayer, the Readings etc.
NOTE: The formal aspects of the canonisation ceremony happen prior to the Gloria.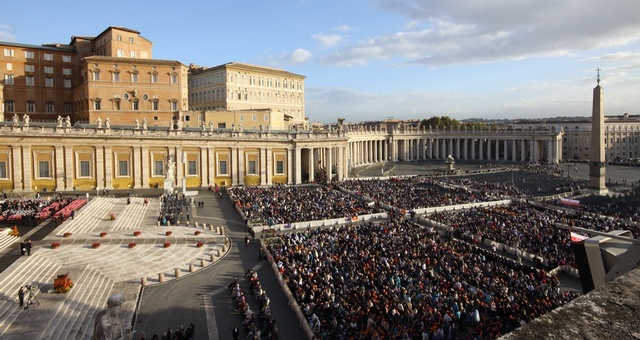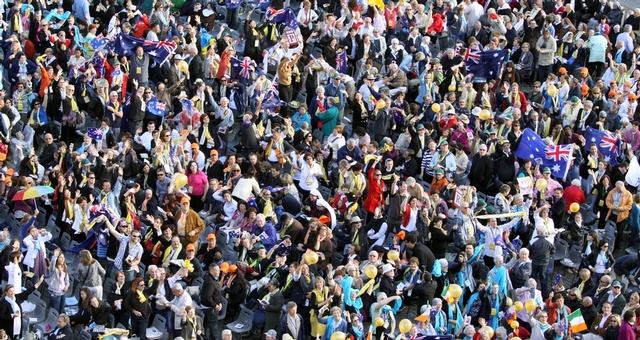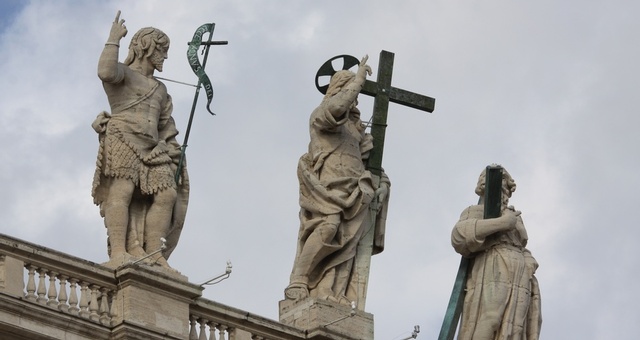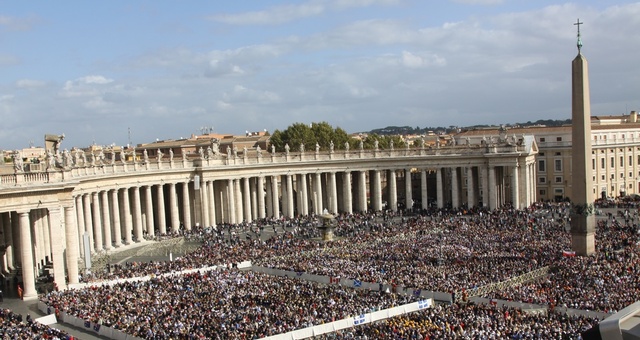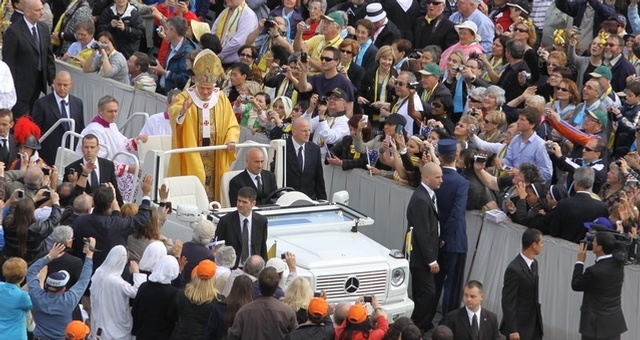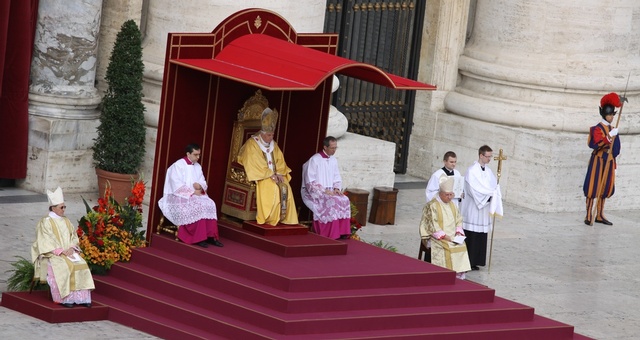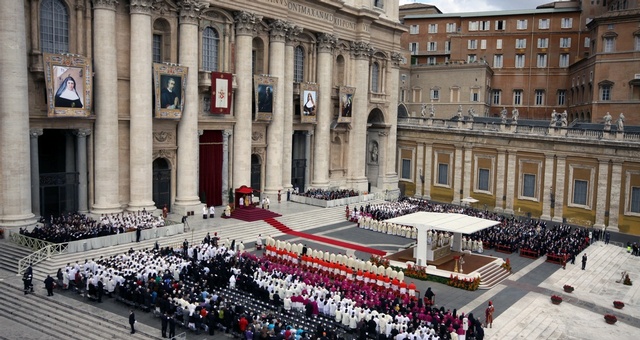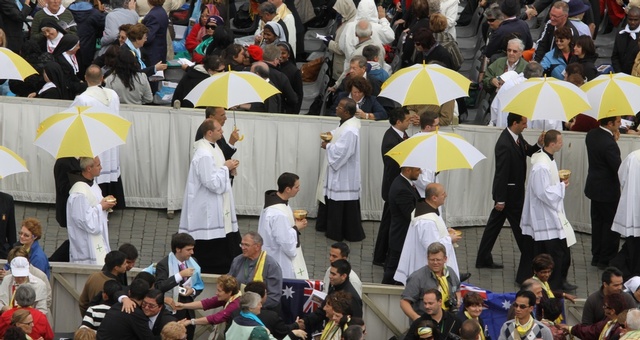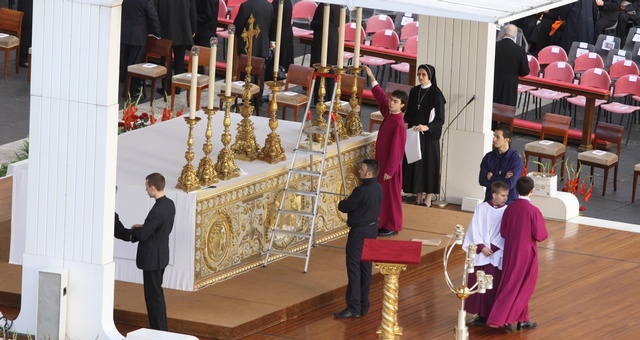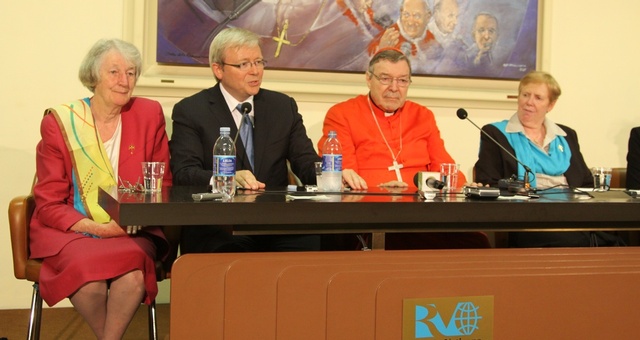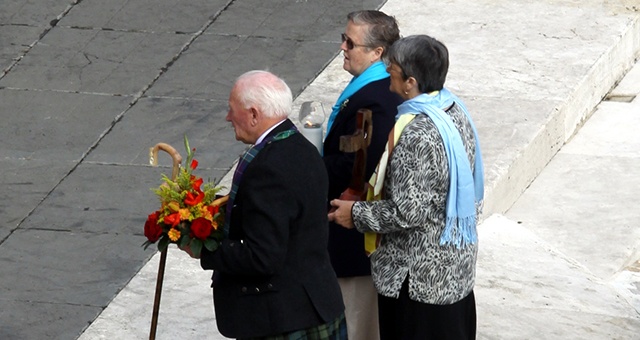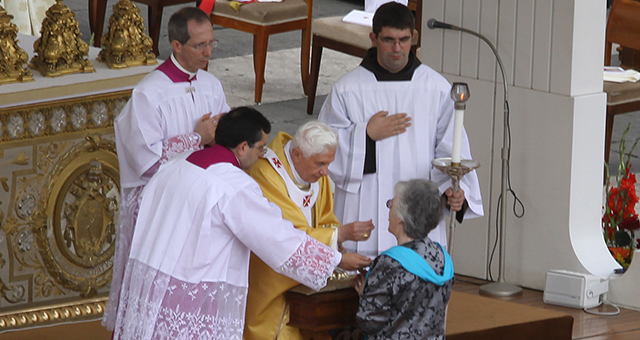 The Rite of Canonisation
A few days prior to the ceremony a large image of each saint was hung in front of the Basilica of St Peter. Mary MacKillop's image was positioned in the middle and to the right hand side of the main door as one faces the Basilica.
Download the Canonisation ceremony here
The Canonisation Mass is the proper of the Mass is from the Mass of that Sunday (29th Sunday of Year C).