Inspired by Mary MacKillop and by Penola, where she lived and founded the Sisters of Saint Joseph of the Sacred Heart, Guy De Tot, a French born artist, created a unique Australian reliquary from an old red gum (Eucalyptus camaldulensis) fence post. It is uniquely Australian in the form of a Cross, simple, yet beautiful in its simplicity.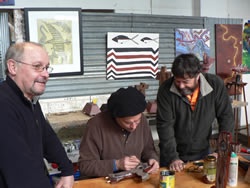 The fence post was taken from a property in Penola near where Mary MacKillop was a governess in the early 1860s. It was supplied and cut by Andy Clifford, a local farmer and wood carver. Andy also prepared the base and turned feet for it.
The portion of fence post used is very old and weathered on both sides. It has two holes where the fence wire passed through. One of the holes was enlarged to make space for the insertion of the relic between two pieces of brilliant cut facetted glass which is more than 100 years old. This glass was supplied and prepared to receive the relic by Gavin Tobin, a glass artist from Mount Gambier. The relic consists of some strands of Mary's hair, inserted in the form of a Cross.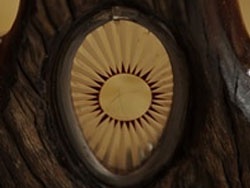 The three artists worked together in harmony to complete the reliquary. Guy De Tot shaped and polished the Cross from the wood cut by Andy Clifford. Gavin Tobin prepared the glass to receive the relic, then sealed it and leadlighted it for placement in the Cross. Guy De Tot gave the final polishing in readiness for presentation to the Postulator, Sr Maria Casey rsj, on August 13, 2010 at the Penola Mary MacKillop Interpretive Centre.
The reliquary was taken to Rome and presented to Pope Benedict XVI during the canonisation ceremony on October 17, 2010.