November 26, 2018
Recall the students who attended the RAD Conference who spoke about their advocacy for affordable housing in the article 'The RAD Ripple Effect.'
Read about their progress below…
---
Students met with Mr David Harris MP to address their concerns in regard to 'affordable housing,' particularly on the Central Coast, New South Wales. The students presented him with a petition. The meeting was productive and we came away with a whole lot of information to help guide us in our mission to attain more equitable housing opportunities in our community.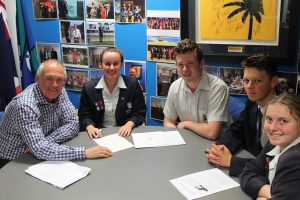 Mr Harris fully supports our students. He has agreed to help them campaign. We have a few new 'leads' and the next step is to take our petition to the streets… well, to Lake Haven Shopping Mall, IGA Supermarket and Westfield Tuggerah. Mr Harris will then motion this at New South Wales Parliament.
However, in order for us to have the issues actually debated, we require 5000 signatures. A little away from this amount currently but we hope to get there… eventually. Perhaps a trip to Canberra will be in order J?
Parliament will resume in March 2019 so this is our deadline. During this time, we would like to meet with St Vincent de Paul, a few of the large developers who are currently working to improve housing affordability here on the Central Coast; Compass, as well as Hudson Homes.
One of the students mentioned that after this meeting it seems more real and that she is even more driven to create awareness and seek justice surrounding the housing crisis. This is really encouraging and I am so impressed that our students have the courage and passion to pursue such important issues.
Michelle Baxter
Teacher
MacKillop Catholic College Warnervale
If you would like to sign the petition, please click on the link below:
Photo provided by Michelle Baxter. Used with permission.