November 7, 2017
The beautifully kept Kensington Convent Gardens, so dear to Mary MacKillop in her time, were a wonderful setting for the recent Garden Party which was organised as an awareness and fund-raiser for the Mary MacKillop Museum Redevelopment Project.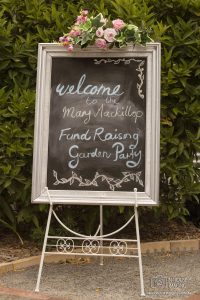 There were anxious moments in the days leading up to the event on account of the less-than-good weather forecast, and wild morning winds buffetted those who were setting up for the afternoon. Then the sun shone, and around 300 people came to enjoy the Garden Party.  Our guests included the SA Governor and his wife, the Hon Hieu Van Le and Mrs Lan Le, who happily mingled with visitors who were touched by their 'down-to-earthness'.
The afternoon's programme was full and varied. It included musical entertainment, interspersed with fun activities for adults and children, and, of course, fund-raising! There was a major raffle, a well-stocked and high-class gift stall offering many bargains – and a silent auction.  Items for all of these fund-raisers had been generously donated by the SA Sisters, our friends, trade suppliers, and Adelaide businesses.
The success of the day, both socially and financially, reflected meticulous planning, over many months, by the Museum Fund-Raising Committee, coupled with the behind-the-scenes 'heavy lifting' work of a number key players, and an 'army' of volunteers who joined them closer to the event.
Sr Margaret Kenny, who hosted a number of relatives and friends whom she had invited, shared her insight:
Out of sight, in our Convent, was a hive of industry … What our visitors did not see was much more than a 'well-oiled machine'.  It was an inclusive community in the Josephite charism: our students, teachers, Covenant women, Associates, staff members, supporters, Sisters, family and friends – all with 'sleeves rolled up', working together in effective harmony …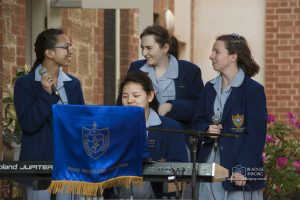 Special mention must be made of the squad of senior students from Mary MacKillop College, Kensington, Mt Carmel College, Rosewater, and Loreto College, Marryatville who gave us their Sunday afternoon, and cheerfully waited on tables, tempting our guests with a seemingly never-ending supply of delicious hot and cold finger foods, cakes, slices, scones and sandwiches.
So many people contributed in myriad, mostly hidden, ways to this memorable event.  Their generosity, time and hard word guaranteed the smooth-running of the Garden Party, the joyful atmosphere that all enjoyed and the beautiful memories that now evoke smiles!
Mary Ryan rsj
Co-ordinator: Mary MacKillop Museum Redevelopment Project
Find out more about Mary MacKillop Museum Adelaide