Daughter of generous hearted Flora and educated, passionate Alexander from the Scottish Highlands, Mary gradually grew in the faith inherited by generations of believers in the Braes of Lochaber and handed onto her by her parents.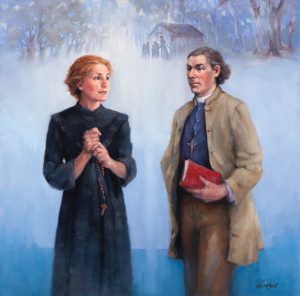 Mary MacKillop embodied the culture of her forebears as her spirituality evolved in the soil of our ancient and thirsty land and Celtic-Australian Church.
With the influence of Fr Julian Tenison Woods Mary further developed a devotional life that involved Joseph who attracted her because of his humility and obedience; the Sacred Heart to whom she turned when in need of care and shelter and the inspiration and witness of John the Baptist. The blue monogram captured her devotional life with the Ave Maria and Jesus, Joseph and John the Baptist.
Joan Chittister gives us an insight into the strong spirituality that exuded her love of God She says:
Mary MacKillop was so possessed by an internal vision of divine goodness that she gives us a glimpse of the face of God in the centre of the human. She gives us the possibility of greatness in ourselves.

This spirituality was evident in her trust in the will of God. Mary was further influenced by the Jesuits  who promoted the art of living constantly with a listening, discerning heart so as to find God in all things. Her down to earth and well-grounded approach to God and to life was bolstered by the Australian landscape and its people.
My name in religion is Mary of the Cross.

It was as though there was always an awareness of the difficulties that lay ahead for Mary when she claimed the title "of the Cross". Mary MacKillop walked in faith and entered into the mystery of the Cross. This utter belief enabled her to deal in an extraordinary way with oppositional people and difficult situations. Her loving heart encompassed the compassion and forgiveness required to live further into the mystery.
Love of God filled her heart and overflowed to all those around her. It was especially tender towards anybody in trouble.

As her awareness of God's unconditional love grew, Mary's loving heart became enriched and freed and began to overflow into genuine concern for others. For her, God was caring and forgiving of all people without exception.
In leading the Sisters, Mary was very conscious of the need for them to be aware of God's presence and power working within them by taking time to nurture this love and enable it to overflow into their compassion, forgiveness, courage and resilience. She often reminded her Sisters about being united with their God so closely that they could become their best selves.
The exemplary manner in which Mary lived among the people captured the values at the heart of her ministry. Respect, hospitality, perseverance, generosity and forgiveness reflect the sacredness of her journey to holiness.
Gospel values were at the heart of Mary's Spirituality.
Page last updated May 2016