May 2, 2018
Pilgrims spread positivity through Aussie Camino.
A group of dedicated pilgrims arrived at the Mary MacKillop Interpretive Centre this month after completing the challenging Aussie Camino, replicating the journey of Saint Mary MacKillop.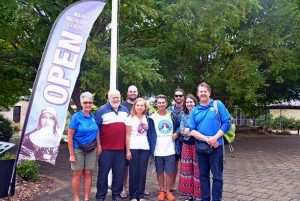 For group leader Luke Mills, it was his 10th Aussie Camino. Mr Mills led a group of 11 from Portland to Penola as they walked along the coastline for eight to ten hours a day. "We had pretty good weather for the most part, however the last day or two it reached high temperatures so it was fairly warm," Mr Mills said.
Despite half the group previously completing planned walks in Europe, Mr Mills said some described the Aussie Camino as one of the toughest they had experienced. "The distance between towns in Australia is quite testing and vastly different to Europe," Mr Mills said.
Although the walk has a religious theme, Mr Mills said he encouraged the group to take their own personal meaning. "People are able to take what they like out of the trip and they all recognise the cultural aspect as well as the opportunity for personal growth," Mr Mills said. He said religion in society was important and should not be despised, with the group bringing a positive message to the communities they visited.
"I believe in the value of caminos as they bring people together and participants always have a calming and peaceful effect on the community," Mr Mills said."We eat, sleep, drink and go – it is a quiet experience."Mr Mills said the camino also offered a chance for walkers to reflect on their own lives and provided a meditative experience.
Amelia Pepe
Source: The Border Watch (Mount Gambier, SA)
Find out about the Australian National Pilgrimage 'In the footsteps of Mary MacKillop'
[1] Teresa Goldsbrough, Bill Dunne, Dominic Izzard, Stephen Rimpas, Dominic Loydell, Amanda Coulfield, Maria Bec and Luke Mills at the end of their journey from Portland to Penola, before spending time exploring the Mary MacKillop Interpretive Centre. Photo by Amelia Pepe.