December 15, 2017
Bollards will be installed at a dangerous carpark in Collaroy Plateau after a community campaign led by Year 3 students at St Rose Catholic School.
The campaign, backed by the Manly Daily, saw the children dress as bollards where the safety measures should be placed at the Augusta Centre.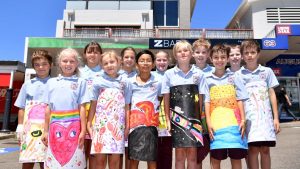 A grassroots campaign — involving petitions, emails to councillors and surveys of shoppers — had seen little action from Northern Beaches Council until this week.
The school's assistant principal Alana Daley said staffers called to say the council's planners would work with the children to find the best solution.
"We are proud of the kids and the campaign they led," Ms Daley said.
"It is a beautiful lesson for the children that they can make a difference.
"The whole class is ecstatic about it, the lobbying the hard work has paid off."
The students started the campaign after nine-year-old twins Ava and Georgia Rochford were having breakfast with their mother Jamie when a car ploughed through the front of Zbar.
During the campaign, Ms Rochford described to the Manly Daily the moment she thought Georgia had been hit when an elderly driver's car went into the front of the cafe.
"I sent Georgia out to check on our dog and within 30 seconds of her leaving a car came through the front of the cafe," she said.
"All I remember was screaming with the realisation that she was outside. I remember jumping over the car which was blocking the way into ZBar and just screaming and luckily she was fine, she was outside.
One of the twins' classmates, Fletcher Steven, said the class cheered when they were told the news about the bollards.
At St Rose we try to follow Saint Mary Mackillop's advice to 'never see a need without doing something about it.'
The students were learning about the built environment — part of which led them to investigate solutions to the dangerous parking area where there had been a number of serious crashes
Another student, Jake Uys, said: "We saw a need for something like bollards to be installed to stop cars crashing into the shops.
"We found out you are never too young to make a difference."
Due to the student's efforts, the council will install 26, 1.1 metre high stainless steel bollards next Tuesday.
"As a result of their questions, we worked with the students to look at the best options," said council chief executive Mark Ferguson.
Robbie Patterson
Manly Daily