May 1, 2018
As we celebrate the Feast of St Joseph the Worker, we present St Joseph as a very modern intercessor for those who are unemployed and seeking work.
We see work as a right and a privilege to be enjoyed by all. Through work, we share in the creative action of God. Joseph, being a man of integrity, shows us how to bring balance to our interior and exterior aspects of our working lives.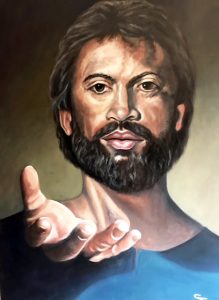 As St Joseph is very frequently looked on as the Husband of Mary and Foster Father of Jesus, we can forget his role as the Worker in the Family. Work, either paid or unpaid, in whatever form, undertaken in a way that enhances our being, gives glory to God.
Work which becomes the aim of our being, and thus an idol, can be a curse and not give life.
We ask St Joseph to give to our Youth the desire to seek work that will give them dignity and enable them to see work as a worthwhile objective. It is a much bigger picture than just asking for work – there are the multiple areas where we need to make sure that our work places are safe, just and fair. It is easy to be employed by unscrupulous bosses who use our young people in a way that does not allow them to grow into a work ethic that will assist them for life.
His role as the Protector of Jesus and Mary, especially when he was fleeing Herod into Egypt, shows us that his relevance, in the mass migrations of people fleeing their war torn, cannot be ignored. These people are barely surviving with no opportunity to be employed and appreciate the role of work in their lives.
St Joseph was the man closest to Jesus. He worked side by side with him, he was Jesus's Dad. So we need to ask him to help us communicate our desires to the One who is forever asking us to: 'Come to me and I will give you rest' Matt.11:28, 'Knock, and the door will be opened' Matt.7:7, and 'I am the Way the Truth and the Life' John 14:6.
As we celebrate the Feast of St Joseph the Worker, let all of us who are gifted with the opportunity to work remember and pray for those who continue to walk the road of unemployment and despair.
---
Prayer to St Joseph
Joseph, Model of workers, Protector of Jesus and Mary help us to come to an understanding of the power of your Son to intercede for all those who seek your help.
Your silence is a strong challenge to values current in our society.
Help us to value that interior life which lead you to a total commitment to Jesus and Mary.
We ask this prayer through Christ our Lord.
Amen.
---
Marie McAlister rsj
Image: St Joseph © Steve Todd, 2018. Used with permission.