October 18, 2011
A new sculpture of Mary outside the Mary MacKillop Memorial Chapel, North Sydney was unveiled on the first anniversary of the canonisation.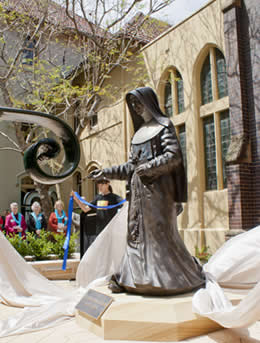 Many in South Australia know the work of sculptor, Judith Rolevink, especially the statue of Mary MacKillop with two children outside the Cathedral of St Francis Xavier. In 2010 the Congregational Leadership Team of the Sisters of Saint Joseph commissioned Judith to create a new bronze statue of Mary to go in front of the Mary MacKillop Memoiral Chapel in North Sydney – the place where Mary is buried.
After months of deep reflection on the person of Mary MacKillop and sheer hard work, Judith has created a wonderful new image of Mary – Mary as the middle aged woman who first came to live in North Sydney – Mary who was renowned for her attentive listening to the Word of God and her amazing capacity for written communication. The right hand of the image reaches out in welcome to all who come. Sister Anne Derwin in her reflection on the statue said, "the sculpture, which depicts Saint Mary offering her right hand, shows that she is continuing to reach out to others. She will be there for generations as a source of inspiration for all."
The statue was ritually unveilled by students from Saint Mary's School North Sydney and then blessed by Bishop Geoffrey Robinson. This took place during the first anniversary of Canonisation Mass held on Glenroy Green at Mary MacKillop Place where hundreds of pilgrims saw the blessing on the big screen. Afterwards the pilgrims were able to both see and touch the new statue.
Judith spent many hours reflecting on Mary MacKillop who journeyed with her during the creation of the statue. She said, "I felt very intensely about getting her with kind eyes and to be the person she was – an extraordinary Australian that was really out there doing things by her own enthusiasm. I wanted to portray her as someone very able." Judith as definitely achieved her desires.