November 4, 2019
Students at Mary MacKillop College, Nundah in Queensland, were called to action last week when they celebrated the College's Penola Day.
At the College, Penola Day (7 October) commemorates the anniversary of the death of Father Julian Tenison Woods. Fr Julian was not only a gifted missionary priest and co-founder of the Sisters of Saint Joseph but an eminent scientist and environmentalist. For Fr Julian:
Every rock, every leaf, every insect has something beautiful, nay, wonderful to tell.
As such, Penola House's overarching value is stewardship. This is lived by the community through conservation, empathy and inclusivity.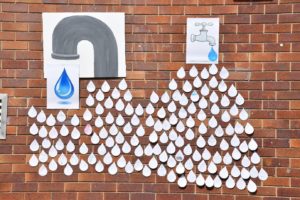 This year Penola House committed the day to preserving the earth through conserving water. The Penola House liturgy invited the girls to imagine what the world will be like if we do not act to preserve all that is sacred. In this instance they acknowledged the importance of water as a "living source" (John 4:10-14) and as a House recommitted to their stewardship of this essential resource. Each girl wrote her commitment and a prayer on water droplets. The droplets were then hung in the plaza to form a community pledge of commitment.
The day centered on raising awareness to the plight of communities in drought-stricken areas of Queensland where water shortage has been unprecedented. Parent, students and staff donated bottles and cases of water which will be distributed to outlying communities in South East Queensland. The community also pledged commitments to practical ways of conserving water at school and at home. The College plaza was alive with fund raising initiatives as girls busked, braided and baked to raise money for those in need.
Penola Day 2019 was a day of awareness, gratitude and a deepening of empathy for the needs of those facing significant hardship. As a generation faced with a future of climate change and uncertainty, the students are keen to continue their commitment to the environment and conservation in the hope of bringing about change.
Mary MacKillop College
Nundah
View photos from Penola Day in the gallery below:
Photos provided by Mary MacKillop College, Nundah. Used with permission.