December 3, 2018
Recently the Aboriginal Catholic Ministry Victoria (ACMV) held the launch of an outdoor artwork entitled "Our Survival Journey", a learning tool to help us understand the past, present and future journey of the Aboriginal and Catholic Communities of Victoria.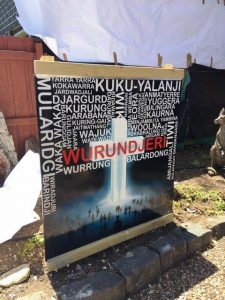 A BIG crowd attended the day with all seats taken. Sisters of Saint Joseph in attendance were Margaret Blampied, Joan Healy, Joan Hamilton, Therese Quinn and myself. The day began with the monthly mass which was concelebrated by Bruce Duncan, ACMV Chaplain, Fr Kevin Mogg and Fr Joe Caddy, past and current Vicars for Catholic Social Services.
At the conclusion of mass we moved out into the yard for an acknowledgement of country and a "smoking, cleansing ceremony". This is especially important as the survival journey about to be revealed and its truth telling, were very confronting for some and very disturbing for Aboriginal people to recall.
What struck me during the unveiling was that, even though the missionaries who brought the "Good News of Jesus Christ",  and did not understand or respect the Aboriginal people, their culture, language and rich spirituality, the Aboriginal people did appreciate and resonate with the "story" and "person" of Jesus the Christ.
Quoting from the launch booklet, it reads:
Just like Jesus, we are condemned for other people's gain with no consideration for our people, our race or our culture. This is why we identify so closely with Jesus and his journey.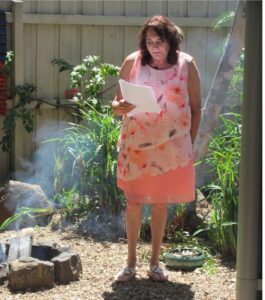 Sherry Balcombe, ACMV coordinator, and John Dunn, the artist, who is Sherry's brother, was the master of ceremonies for the event. John read out the instructions Sherry gave him for each stage of the Survival Journey, then Sherry would read the text in the booklet while John unveiled each art work and provided his interpretation of the image at his sister's request.
At the conclusion of the unveiling, we were invited to a delicious shared lunch provided by the ACMV. This provided all with the opportunity to catch up with many friends and supporters of the ACMV and share our responses and dreams for the future onward journey towards Reconciliation.
Marianne Zeinstra rsj
Please note: John's Stations of the Cross images have been made into a set of cards. An order form to obtain them is available below:
Order form for Stations of the Cross cards (PDF)
View photos from the day below…