July 7, 2017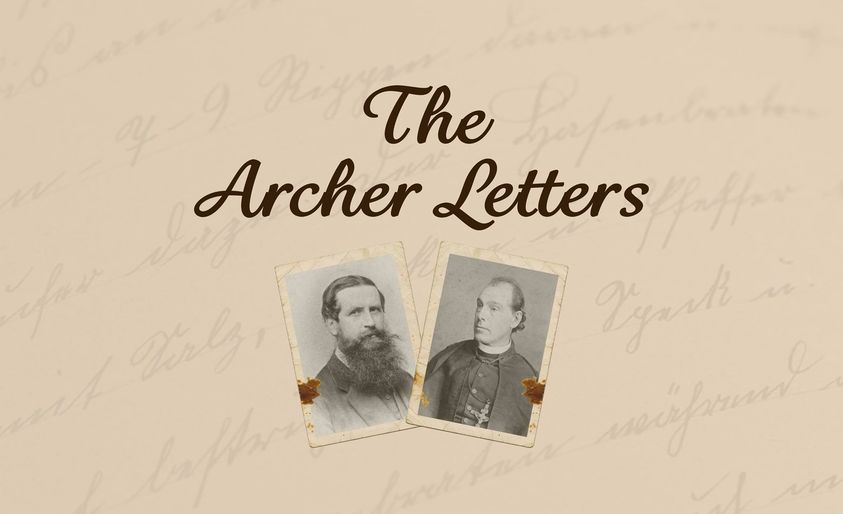 This month's presentation is a suite of three letters written from Tasmania early in 1876, their connection being Fr Julian's anticipation of spending time with the Archer family in Melbourne.
Fr Julian wrote the first of these letters, dated 6 January 1876, from the Huon district, south of Hobart, where he was giving a most successful mission. He mentioned receiving 18 people into the church and the footnotes to this letter give evidence of the esteem in which he was held as an orator. The timber on which he recorded the number of communions and confirmations has been removed from the Geeveston church and is now on display in the Julian Room of the Josephite Mission and History Centre at New Town, Hobart.
In this letter, Fr Julian also told Sir William that he was enclosing a cryptogamic puzzle. Obviously he forgot to do this because the purpose of his letter of 22 January 1876 was to send the Fungus! Both letters alluded to his involvement with the Tasmanian Royal Society, whose monthly meetings both stimulated his scientific work and gave him a forum for sharing his reading and research.
The third letter, written from Hobart on 14 March 1876, was to Mrs Archer, apologising for once again delaying his visit and asking for assistance for one of the women from a new religious community he was trying to establish. This letter showed the esteem and trust which Fr Julian held for the Archer family. It is little wonder he enjoyed spending time at their home.
What was not mentioned was the reason for his delay in leaving Tasmania. He was, in fact, quite ill and did not leave Tasmania until November 1876, a further delay having occurred when Bishop Murphy of Hobart asked him to take charge of the Oatlands parish for several months. It was January 1877 before he was able to spend time with his good friends.
---
This month we present three letters, written on 16 January 1876, 22 January 1876 and 14 March 1876 respectively: