November 1, 2018
On the cover of Margaret Silf's book, Compass Points, is the claim, "you can find God as easily at the car wash as you can at the cathedral." [1]
Such an assertion is true of saints. If we look with eyes attuned to the presence of God in all things we might discover we are surrounded by saints. For as Joan Chittister says, saints are:
…people like ourselves, reachable figures, who have lived well through situations similar to our own as proof that we too, in all of our smallness, can stretch ourselves to the limits of the best in us.
[2]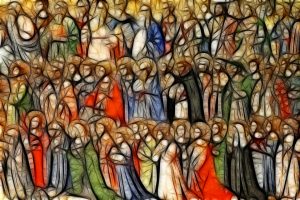 It's true that we can become immune to the extraordinary possibilities in our everyday experiences and encounters. Familiarity with the routines of the everyday does indeed breed a certain 'take-for-granted' attitude. We can easily by-pass the potential to see and be inspired by those around us – the selfless and the tolerant, the encouraging and the courageous, the creative, the resilient, the joyful, the generous and the generative. We can miss their haloes. We can fail to spot those saints in our midst who are revealing to us some aspect of the many facets of the face of God. For that is the mission of haloes – to reveal to us something of the sacred, of God, who is Love. And if we are attuned to God's presence, we can also be moved by that spark of the Divine in those who are pushed aside, dismissed, left out, undermined, underfed, unhoused or simply unseen and unheard.
For Ron Rolheiser the challenge is:
…to learn the secret of seeing the extraordinary inside of the ordinary, of seeing divinity shimmering inside of humanity, and of seeing haloes around familiar faces.
[3]
"…haloes are seen," says Rolheiser, "by looking into largeness, by tucking smallness into the folds of infinity." [4]
Thomas Merton's experience, while standing at the intersection of 4th and Walnut Streets, Louisville, illustrates how for him the ordinary changed into the extraordinary. Suddenly everyone around him began to shimmer with a deep, divine radiance. They were all walking around, he wrote, "shining like the sun." And he adds:
Then it was as if I suddenly saw the secret beauty of their hearts, the depths of their hearts where neither sin nor desire nor self-knowledge can reach, the core of their reality, the person that each one is in God's eyes…
[5]
Teilhard de Chardin in The Divine Milieu echoes a longing for this gift: "It is a question of seeing.  I long to see the fire of the shimmers deep beneath things and deep within things. Oh, to see all things ablaze with God's fire." [6]
This way of seeing is the key to Mary MacKillop's saintliness. She had such a sense of the sacred in all people that she could write:
It is by love God has always led me, by love that He reproves me, by love that He lets me see His love in all, whether pleasing or displeasing to nature which occurs to me.
Mary was the compassionate face of God for people in her time.  Her life and her example continue to inspire us today.
Perhaps the invitation of today's Feast of All Saints is go halo hunting. Let's see if we can spot the haloes around us and reverence the spark of divinity we meet there. We might even dare to look in the mirror and stand in awe at the face of God reflected there. Happy Feast Day!
Sue McGuinness rsj
[1] Margaret Silf, Compass Points. Loyola Press. 2009
[2] Joan Chittister, A Passion for Life.  Orbis Books, 1996. Page ix
[3] Ron Rolheiser, "Praying so as to see God's Glory Inside of Humanity."  18 December, 2011.
[4] Ibid.
[5] Quoted in Ron Rolheiser, ibid.
[6] Teilhard de Chardin is quoted in Ron Rolheiser, "The Fire that Shimmers Deep Within Things." 4 Dec, 1995.
Image within article obtained from pixabay. Used with permission.