November 21, 2018
As the rich get richer, the increasing misery and cries of the poor are ignored every day, Pope Francis said this week. [1]
What does this mean for us?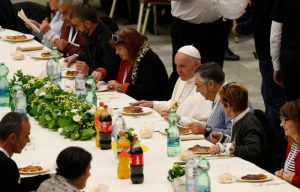 The coming of Christmas is never far from our consciousness as we journey through keeping up with the demands of life, shopping, emails and our own busyness towards 25 December. Children are alternately excited by its coming and frustrated by what seems to be an interminable wait. Families share and plan. Schools, churches and many communities organise to provide for those who have little with which to celebrate the season.
It's really appropriate then that we take time this week, to reflect on the second World Day of the Poor, which occurred on Sunday 17 November. So close to Christmas, it reminds me of five-year-old Timmy, who emphatically engaged his mum following some discussion in his class at school.
We're not poor, are we mum? We've got our house and the jacaranda in the back yard. We've got our family. Nan and Pop always bring us pies and chocolate brownies. Nick and Archie share their toys. You and dad look after us, and you read us stories every night.
I listened to this conversation, and thought of all the simple things that make us indeed rich. And I was deeply moved by Timmy's reminders of the things that are important in life.
In his homily for World Poverty Day this year, Pope Francis pleaded for those who do not have the riches that fill Timmy's life.
May people hear the cry of the abandoned elderly, those who lack any support, refugees and entire peoples deprived even of the great natural resources at their disposal.
Referring to the Gospel story of the poor man begging for scraps, Pope Francis reflected that many people today are just like Lazarus and "weep on the fringes of society, while the wealthy few feast on what, in justice, belongs to all." As Pope Francis remind us "injustice is the perverse root of poverty."
Every day, he grieves, the cry of the poor becomes louder, but it is increasingly ignored. Their cries are "drowned out by the din of the rich few, who grow ever fewer and more rich."
Coming just before Advent, I'm reminded once again of the need to share from the riches of my family love, the brownies and the back yard jacaranda, my brothers and sisters, both here and far.
Jan Barnett rsj
Josephite Justice Co-ordinator
[1] 'Helping the poor is not a papal fad, but a duty, Pope says'. © 2018 Catholic News Service / U.S. Conference of Catholic Bishops.
[2] Photo taken by Paul Haring. Obtained from source above [1].