October 11, 2017
You missed it. Yes, you missed it. We all missed it. We missed it because it wasn't there.
Oh, there were a few fleeting mentions on the radio and TV, but nothing much in writing – no establishment of the facts, no commentary, no letters to the editor. Not even a humble blog.
http://www.abc.net.au/news/2017-09-27/west-papua-independence-petition-handed-to-un/8994400
What was it? Just this:
On 26 September 2017, a petition was presented to the UN Decolonisation Committee by Benny Wenda, a West Papuan independence leader living in exile in London. The petition had been banned by the Indonesian government. Online access to it was blocked.
People were arrested for promoting it.
So the Papuan people smuggled it from village to village, on paper. It was signed by 1.8 million Papuans. 1,804,431 people, to be exact. That's 70% of the population.
The petition made two main demands:
the appointment of a Special Representative to investigate the human rights situation in West Papua;
an internationally supervised vote on West Papua's self-determination.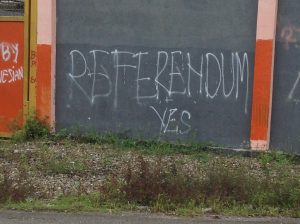 That is astounding news. The request of 1.8 million people for investigation into ongoing violence towards them. The request of 1.8 million people for a UN supervised vote on their status, which was denied them when Indonesia took over in 1969.
And the reporting in Australia about this event within a few hundred kilometres of our shores? So little that if you blinked, you missed it. It's been more newsworthy in New Zealand, and greater still among Pacific nations.
Since this extraordinary event, the UN Decolonisation Committee has declined to receive the petition, stating that the ball is not in their court. Indonesia has called it a "hoax", and Australia, as always, sides with Indonesia.
What on earth can we do?
We can pray about the terms of our own judgement: "Whatsoever you do to the least, you do to me" (Mt 25). We can think about Christ's identification with the oppressed.
We can stand with the West Papuans. We can take courage from their courage.
We can refuse to give up on the Indonesians, or the Australians.
We can grapple with the fact that nothing is outside of God.
We can think about the daily news as being our "secular scriptures", as Nicholas Boyle writes.
The secular scriptures of our times, often filled with falsehood, manipulation and calculated silence, are a point of forgiveness. They proclaim "what it is about us that needs to be redeemed". Boyle continues: Even in the works and words that seem to hide God's face, or to spit on it, we can see God revealed at the heart of our world and in our culture.
(Boyle, Sacred and Secular Scriptures, p. 144.)
The face of the suffering West Papuans is hidden, as is Christ's. The response to their petition is a slap in their face…
We can go to Benny Wenda's website and send him a message of support:
https://www.freewestpapua.org/
We can refuse to be silent on West Papua.
Susan Connelly rsj