December 22, 2017
Do you believe in Justice for Refugees? Do you believe in Reconciliation? Do you believe that we must act now for Climate Change?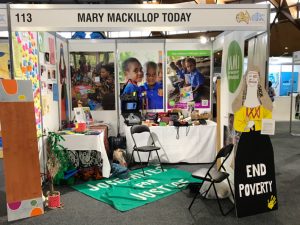 These were the questions we posed as the students and young adults attending the ACYF (Australian Catholic Youth Festival) strolled past the Josephite booth. Thankfully all students and young adults were enthusiastic and happy to sign our welcome graffiti wall for refugees. They wrote messages of their beliefs for Reconciliation and tied green ribbons, with a written pledge, on our tree to declare their commitment for action on climate change.
Below are a sample collection of their welcome messages to refugees and asylum seekers. Read and be inspired. We collected the notes and plan to send them to our border force MP (Member of Parliament) to inform him of the future generations' thoughts and attitudes.
Welcome to our and now your country. Thank you for contributing culture and new perspective to our lives.
They deserve a better life.
We are one human family.
We've boundless plains to share. Our home is yours.
You are all beautiful people. There are many in Australia that are ready to love you.
Karen Oxley
Josephite Justice Network
View all the Welcome Messages to Refugees and Asylum Seekers