October 12, 2017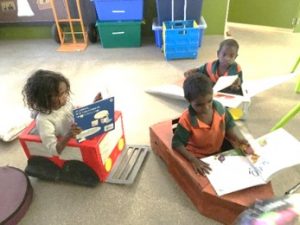 Book week created a new chapter for kids!
Ngalangangpum School recently celebrated Bookweek (August 2017) with the help of the Mary MacKillop Foundation and many generous donors. It did more than give free books, it empowered a generation in literacy thus writing a new chapter in their lives.
In August Ngalangangpum School, in the remote Indigenous Community of Warmun, celebrated Book Week. You may have read about this in an earlier article titled, 'Reading is Deadly'. With the theme of Escape to Everywhere, the children packed a travel bag and moved between classrooms virtually entering different times and places. At each stop, they listened to stories and participated in book related activities with much enthusiasm. They left their stopover with another book added to their travel bag, all thanks to wonderful grant from the Mary MacKillop Foundation and readers of e-news who responded with  book donations. The bags were also filled with goodies …. Qantas kid's activity packs, donations of Cups of soup, popcorn, bookmarks, pencils etc for a number of generous companies after much letter writing.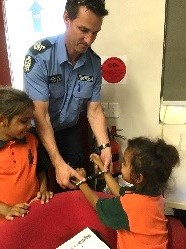 The day was full of excitement. Planes, boats and cars, made from fruit boxes, sufficed as a means of travel around the world. The travel bags included a bottle of water and a piece of fruit for the journey. Children also carried a 'passport' for the day which was stamped at each stop. The police even called in and checked on the passports, and a few arrests were made where passports were not stamped!
Places visited included the bedroom of Lorax, the MCG, Red Riding Hood's Forest and Outer Space. At the MCG the water was confiscated at the screening point by security and at some stops the fruit was handed over due to fruit fly concerns at the border.
When you live in a remote community and experience poverty, it's a challenge to even get to the next town for appointments and services, let alone travel for a holiday. Through books and a dose of imagination, you can travel anywhere!
For many years it has been a challenge to create enthusiasm among the children about books. If books were sent home, they could at times be received with negative attitudes by family because it was, "white fella way". Stories traditionally were shared by ways of dance, art and sitting under a tree to hear stories by elders. Over the years, this perception has now been broken down, thus supporting the school's philosophy of two-way education which means working in partnership with traditional ways, and giving each equal value.
Gratitude is the memory of the heart.
Mary MacKillop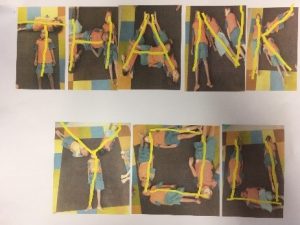 This year, I was privileged to attend the Mary MacKillop Foundation Fundraising Breakfast at South Perth. I shared with those present about our 'Reading is Deadly' Grant and invited them to donate a book to a child of a given age and gender. Over the next few months, books arrived with a personal message from the donor about their love of reading to the nominated child. These books were included in the children's pack to read as they waited in the "Departure Lounge" (their classroom), for the bell to go and Bookweek to commence.
The children and families would like to say a huge thank you for the support of the Mary MacKillop Foundation, Perth Breakfast attenders, Business donors and e-news readers. Mary MacKillop believed in education for all ….. you have made her dream a reality!
Julianne Murphy rsj