March 18, 2016
"When I could not see my way God kept my heart full of trust."…………..Mary MacKillop 1873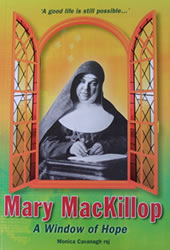 Mary MacKillop placed her trust in a good and loving God – a God who would provide in tough times. Mary's confidence in God was remarkable. One of the Sisters remembered these words of advice, "When I want something very much, I thank God beforehand, for I feel He will certainly grant what He has already been thanked for."
From an early age Mary heard her mother in diffficult situations say,
"God will provide" and she carried this attitude with her throughout her
whole life. She understood that God was a generous God who was calling her to trust.
Time and time again Mary had to place her trust in this provident God. Often she did not know where she would find the money to begin a new venture or to visit her Sisters. She believed that God would provide whatever was needed in all aspects of her life, be it a fare on the boat from Melbourne to Sydney, food and homes for the Sisters, strength to face opposition and false accusation, or a way through a difficult situation.
God provided her with a true friend in Rome. She wrote to her mother in June 1873:-
"I had not a friend when I left Adelaide, but I knew that God
would raise one. I knew I could not do anything, but I knew
at the same time that God would not let his work want a
friend to advance its interest here, but for that, Monsignor
Kirby is more than I ever dared to expect to find in anyone."
Mary urged her Sisters to have that same trust in the Providence of God. This required that the Sisters, "do all the good that they could with the means at their disposal and then to leave the rest calmly to God". (1888)
________________________________________________________________________________
Through Mary MacKillop's trust in God WE are urged
to recognise each day as a gift,
and to know that, at times, we will be called
to be the hands and feet that provide for those in need.
________________________________________________________________________________
© Mary MacKillop—A Window of Hope: Monica Cavanagh rsj, 2010, pages 68-9
Used with permission of the author and publisher: Wilkinson Publishing Pty Ltd, Melbourne
Amidst the seasons of Mary's life, her faithfulness
to the spiritual life is reflected in five underlying themes:
the presence of God,
trust in God,
the cross,
the will of God
and
reverence for the dignity of all.