May 28, 2018
St Joseph's Catholic College, East Gosford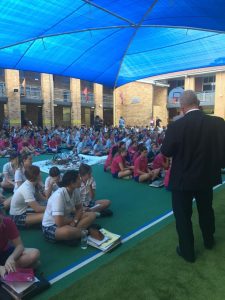 On Monday 5th March, following the national Clean Up Australia Day initiatives of 3rd and 4th of March, the three College leaders collected a day's worth of rubbish left on the school grounds and dumped it in a pile in the middle of our College assembly.
We felt the need to present a 'Walk of Shame' to bring to the girls' attention, the severity of littering issue in our community and in our school. We planned on delivering this message through 'shock tactics' – by physically showing all the rubbish collected from our playground in a pile in the centre of assembly, the girls were actually able to see how much waste they are producing and began to understand that if they continue to neglect the issue and leave their rubbish on the ground, there will be major consequences for the environment.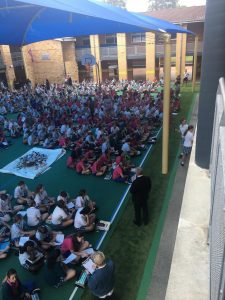 Making the girls sit around their waste sparked a variety of responses, with the majority of girls making comment on how shocked they were by the volume of waste collected from one single day. Our goal was also to bring to light the need to use less plastic and turn to biodegradable options, for example using baking paper and Tupperware containers rather than cling wrap. From this goal came the initiative of 'Wrap Free Fridays', where we ask all students to bring their lunch in reusable containers rather than plastic cling wrap. Eventually, our aim is to have students doing this everyday.
The issue of littering and effective garbage disposal is a massive issue in our direct and wider community and at St Joseph's we are working towards a clean future by raising awareness and sparking conversations with our future leaders.
Emma Singleton
School Captain
St Joseph's Catholic College, East Gosford
Images provided by St Joseph's Catholic College, East Gosford. Used with permission.