Josephite Retreat Centre Whanganui Aotearoa New Zealand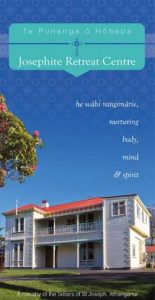 The Josephite Retreat Centre is housed in the historic building, Mount Saint Joseph, in Whanganui. This is situated on a hillside property overlooking the city and Whanganui Awa, with gardens and adjoining native reserve. The Retreat Centre has facilities for conferences, seminars, group and private retreats.
Pam Hopper is the Co-ordinator of the Centre.
A full programme of Retreat days, seminars, and educational conferences is planned annually. The information for 2013 are in the following PDF's.
FACILITIES
2013 Facilities
Conference Room
– seats 40
– modern interactive visual and sound systems
– fully equipped kitchen
– conservatory and courtyard adjoined
Quiet Room/Chapel
– seats 30
– sound system
Accommodation
– 2 x 2 bedroom apartments
– self contained flat
To find out more about our facilities, please contact us:
JOSEPHITE RETREAT CENTRE
PO Box 777
14 Hillside Tce
Wanganui
Ph 06 345 5047
FAX 06 345 8981
jrc.whanganui@sosj.org.au