May 14, 2018
In August of this year, the World Meeting of Families will be held in Dublin.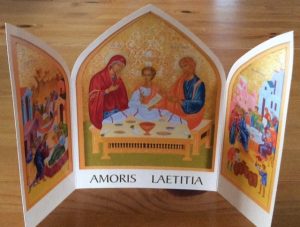 This major international event, which began in 1994, is held every three years and brings together families from across the world to celebrate, pray and reflect upon the importance of family.
Much of Catholic Ireland is busy advertising for volunteers and billets for families, dealing with the intricacies and complexities of registration matters, distribution of tickets, security measures, associated finances and many other organisational details.  Many too are looking forward to seeing Pope Francis at the gathering, hoping that his visit will be a time of healing and reconciliation.
The theme for the World Meeting of Families is: The Gospel of the Family: Joy for the World.  The special icon, the set family prayer, the newsletter and especially the parish activities are all helping to focus everyone on the central message in these months before the actual celebrations. Large banners advertising the event and the visit of Pope Francis adorn the churches. Pope Francis' Apostolic Letter, The Joy of Love, provides the basis for parishes having developed a variety of different programs and opportunities to support everyone in preparation for the World Meeting.
The Official Family Prayer for the World Meeting, a section of which is included below, is said regularly in many churches.
Bless us with the joy of love.
Make us patient and kind,
gentle and generous,
welcoming to those in need.
Increase our faith, strengthen our hope,
Make us always grateful for the gift of life we share.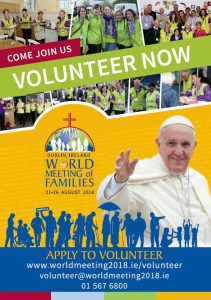 The Sisters of Saint Joseph and the extended Josephite family in Ireland have committed themselves to pray for the safety and success of the event, to support parish initiatives and to make a financial donation to enable a family to attend the celebrations in Dublin in August. The Josephite family is also very aware of the sufferings, that exist in many families in Ireland, those who are homeless, those who live in chaotic situations, children without parents, elderly without family and the many refugee families hoping to find a permanent home in Ireland.
As we pray for blessings on all families, those who plan to attend the World Meeting and those who are not interested, we recall the many gifts and blessings of families, we give thanks for the strength and grace received to weather the hard times that beset families and we think about our place in families.
---
As a group we ask:
How can we relieve suffering and bring hope to the many families in need?
and individually we ask:
Am I a blessing to my own family and the families with whom I come in contact?
---
May the Dublin 2018 World Meeting of Families be a blessing for the World and for Ireland.
Pauline Morgan rsj
Click here for further reading and information on the World Meeting of Families
Images provided by Pauline Morgan rsj. Used with permission.