January 15, 2010
Wednesday 26 March 2008 was a special day for the residents of Proctor Way Claymore in the Diocese of Wollongong. It was the day that the WYD Cross came to 'Sister Julia's place' early in the morning – at the same time as the garbage truck arrived to empty the recycling bins! It was just a normal day.
As the Cross was moved into position in front of Sr Julia Hartnett's home we stood in silence and listened to the hymn This is Holy Ground. Sr Julia welcomed the residents, schoolchildren and parishioners of the Eagle Vale parish to Proctor Way and acknowledged the original custodians of the area, the Tharawal people.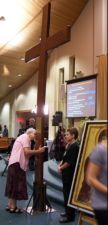 She outlined the history of the suburb of Claymore which was established in the 1970's to provide affordable housing for low income families in over 1000 government owned properties. The population consisted mainly of single parent families, who for a variety of circumstances had to live away from extended family support. But there was no infrastructure in place and no employment opportunities in Claymore and the inevitable social problems resulted.
Sr Julia told the people that Mary MacKillop, foundress of the Sisters of Saint Joseph often reminded the Sisters to 'never see a need without trying to do something about it'. In 1996 the Sisters of Saint Joseph responded to the need and took up residence in the community housing in Proctor Way. The ministry of the Sisters was to be a presence in the community and to live with the people.
Sr Julia, who has lived in Proctor Way since 1999, said that she was asked recently what she liked about living in Claymore. I said, "It's the people, I love the people, I feel very much part of the community."
It was indeed very fitting that the WYD Cross should come to Claymore because many of the families have suffered the pain and hardship associated with carrying their own cross. In the intercessory prayers that followed, the various needs of the local community were placed before our God. May all who embrace the cross live with renewed hope in the new life heralded by the Resurrection.