February 6, 2018
Amanda Gregan asked four young Catholics presenting at the recent (Aotearoa Catholic) Youth Festival to share about living their faith.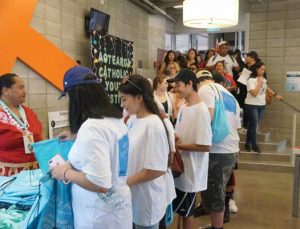 With over 650 participants, the Aotearoa Catholic Youth Festival of worship, discussion and performance took place under a beautiful blue Auckland sky in the first weekend of December, 2017. The Festival highlights included workshops on mission, digital disciples, human sexuality, the work of the Catholic faith community, the state of Earth and bishops' banter sessions…
Read the full article below:
Tui Motu Issue 223, February 2018
Amanda Gregan is Communications Advisor for the New Zealand Catholic Bishops Conference.