July 8, 2019
Mary and the men on the founding Monogram: A communion of companions.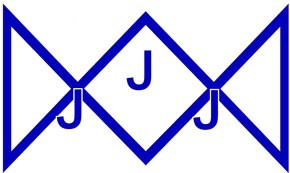 In May this year, Sr Marie Foale wrote on the founding Josephite Rule written by Fr Julian Tenison Woods in October 1867 (First steps towards the Foundation of the Order). This Rule, lived by Mother Mary and her early companions, was signed by Bishop Shiel and approved for use in his Diocese of Adelaide on 17 December, 1868.
The following segment from Chapter Three of the Rule not only instructs sisters on the distinctive monogram to be worn on their habit, but it also holds the key to a spirituality of 'companionship' that Julian was keen to promote with Mary amongst the early sisters.
The professed sisters shall wear upon their hearts a large monogram of the Blessed Virgin ['A' without the crossbar + 'M', for 'Ave Maria'] between three letters 'J' in honour of Jesus, Joseph and John the Baptist, thus, typifying the Holy Family.
The inclusion of John the Baptist in the Holy [extended] Family is probably stranger for us today than it would have been in the culture of Catholic Western Europe where there was a well-established tradition of devotion to John. Art by Leonardo da Vinci [1452-1519] and Bartolomé Murillo [1618-1682] and others depict Jesus and John as companionable children growing up together. The tender vein of that art possibly helped Julian intuit the significance 'companionship' could be amongst young colonial women in a brand-new venture within Religious Life in a new world.
The Rule shows the influence of various aspects of European spirituality that had inspired Julian in his personal journey. His devotion to the Holy Family draws on what he experienced amongst the Passionists in England [from 1850] and the Marist Fathers in France [in 1853]. Both honoured the Holy Family, as did the Josephites of Le Puy in France, whose homely lives amongst ordinary people impressed him so much when he encountered them. Then when concluding his training for the priesthood amongst the Jesuits in Sevenhill, SA, [across 1856-7], Julian would have become aware of the importance St Ignatius placed on 'companionship' with Jesus…
Continue reading the article below:
Mary and the men on the founding Monogram: A Communion of Companions (PDF)