Mary MacKillop was a trail-blazer in her lifetime, leaving a culture of exemplary living for her followers to emulate. Mary paved the way for education of poor children and a variety of ministries which addressed the needs of 19th century Australia.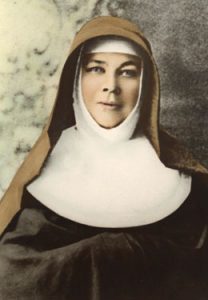 Her legacy continues today in countless ways. Education in its many facets is still a strong ministry for the Sisters of Saint Joseph.
New ways of living the charism have emerged through chaplaincy, pastoral work and a myriad of ways of bringing healing and hope through spirituality, counselling, supervision and mentoring.
Mary MacKillop's legacy holds more for the Sisters of Saint Joseph and followers than the way we minister. She encourages us to be women of justice and ecumenism. Mary inspires us to be courageous and hopeful and to have a deep faith in our God who provides.
Mary MacKillop has shown us how to forgive and how to be compassionate; she teaches us about sanctity and is a saint for all of us today.
Please note permission is required for use of ALL images and text in the Sisters of Saint Joseph website.