Currently, we have over 600 sisters ministering throughout Australia, New Zealand, Ireland, Peru, Timor-Leste and Brazil in a variety of works:
Being and Presence
Suffering and Healing
Educating and Caring
From our foundation in 1866, Sisters have ministered in rural, outback and city places in Australia, Aotearoa New Zealand, Ireland, Papua New Guinea, Timor-Leste, Peru, Brazil and Fiji providing education and support for children and families.
Inspired by St Mary MacKillop and Fr Julian Tenison Woods, our Sisters have been involved in reaching out to the First Nations people wherever they lived in Australia and New Zealand and established formal missions to the Kimberley (1964) and Papua New Guinea (1965), Peru (1981), Brazil (1990) and Timor-Leste (1994).
Aware of the need for justice for all, we continue to strive to raise awareness of those who suffer from displacement, especially refugees, asylum-seekers and trafficked women, and to advocate for those rendered voiceless in our society.
In recent times the Sisters have relinquished administration of parish schools and charitable institutions and working in partnership with others have become involved in a wide variety of ministries, responding to need, wherever they are, and sometimes living alone in isolated places.
Education, in its broadest sense, remains our main work, but today's Sisters are also conscious of Julian Tenison Woods' dictum that they must:
Do all the good they can and never see an evil without trying how they may remedy it. … This is their mission… The religious must do any good that they can, and make their charity all-embracing.
Find out more about Josephite life today by viewing our video series 'I am Josephite' here.
Being and Presence
The Sisters and Affiliates whose ministry can be described as involving Being and Presence are involved in parishes, rural outreach, visitation of the elderly in their homes or in residential aged care. Some are spiritual directors or guides. They are Chaplains to prisoners, seafarers or in hospitals. Some Sisters work in school communities supporting children and families.
Find out more about Josephite life today by viewing our video series 'I am Josephite' here.
Suffering and Healing
Central to Josephite ministry is a call to relieve suffering and bring hope to all people wherever we serve.
Responding to the needs of those suffering, Sisters and Affiliates offer compassion and understanding through healing ministries, in psychology, counselling and other forms of therapy.
Josephites can be found working on the edge of society among asylum seekers and refugees, the homeless and those with mental illness. Through their ministry the Sisters and Affiliates advocate for justice and a compassionate response to need.
Three examples of Josephite healing ministry are:
Educating and Caring
From earliest times education has been at the heart of Josephite ministry. Sisters have been involved in primary, secondary and tertiary education, as well as, faith education in parishes and the wider community.
Through their involvement with the Association of Josephite Affiliated Schools (AJASS), Joseph, Julian and Mary MacKillop (JJAMM) an association for the student leaders of these schools and the Josephite Action Group (JAG) a network of young people caught by the Josephite charism, the Sisters and Affiliates continue to raise awareness of those most in need within and beyond our communities.
In responding to the cry of Earth the Sisters and Affiliates, through the Eco-Spirituality Team, continue to promote an exploration of the theology at the centre of Laudato Si', advocating and giving witness to environmental sustainability.
Eco-Spirituality
The Eco-Spirituality Team is passionate about Planet Earth. As a team we engage in action that arises from a compassionate heart in solidarity with Earth.
We plan and participate in awareness-raising activities that encourage and nurture contemplative living, such as ecological retreats, workshops, rituals, and reflective online materials. (COVID-restrained at the moment!)
We encourage personal and communal awakening and action through reflection and involvement in projects and events that, in the words of our Josephite Chapter 2019, "will heal, include, untether, set right and serve."
As animators and collaborators for Earth, we act "to influence governments, companies and others to halt the damage, protect life and restore habitats."
We encourage personal and communal participation in justice-making and care of Earth, our common home, in the spirit of our Josephite charism and Laudato Si'.

Josephite Justice Network
Josephite Justice is committed to reverence the human dignity of each person, to respond to the cry of Earth and the cry of children, to live in consciousness of our place in the evolving universe.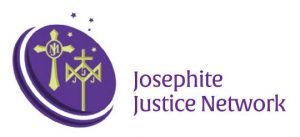 This calls us to serve the mission of God in the spirit of Mary MacKillop and Julian Tenison Woods, especially with those who are oppressed or pushed to the edges of society.
We are called to respond and confront unjust systems which perpetuate discrepancies of wealth, privilege and power, and which diminish the integrity of creation.
In all of this, we acknowledge the original custodians of the land and are challenged to live simply, travel lightly and make room for all.
In our option for those who are poor:
We strive to be just together
we stand in solidarity with First Nations peoples
We work with those whose lives have been shattered by injustice and structures of exclusion
We nurture consciousness of our place within Earth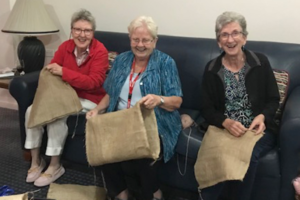 In our involvement in political advocacy:
We lobby against exploitation and systemic injustice
We build relationships with key leaders concerned about divisive politics
We support and build relationships with other justice groups
In our work with the current challenges of Coronavirus:
We share the limitations and gifts of this COVID-19 time
We advocate for increasing support for Aged Care
We work to overcome the exclusion suffered by asylum seekers, casual and short-term migrant workers, and overseas students
We promote justice for those missing out on Government support
Across the congregation:

We strengthen our listening relationship in support of the Uluru Statement from the Heart
We respond actively to Earth's ecological crisis
We develop policies which promote just structures in our action and advocacy
Josephite Eldering Team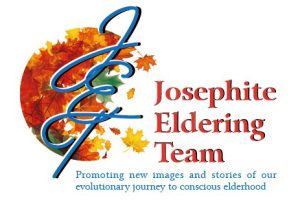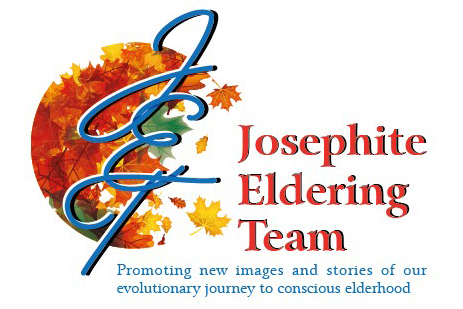 Eldering is not confined to the last phases of life. It is a conscious, active, evolutionary process involving deep personal and social transformation as we move through and beyond mid-life. It touches particularly into the spiritual dimensions of all aspects and stages of ageing of which loss is an integral part.
The Josephite Eldering Team has created the following guidelines to foster this philosophy while promoting new images and stories of our evolutionary journey to conscious elderhood:
To promote positive eldering, 'Bring Me What You Have', and find new ways for the future through the exploration of God's call to us at this time as we appreciate the gift of so many elders with lived experience and wisdom in our Congregation.
To assist Leadership as we attend to our personal and communal loss, pain and hurt and believe that even in our vulnerability we have enough strength and resilience.
To promote a positive vision of spirituality and self-care through the four foundation stones: theology, spirituality, pastoral care and ethics.
To assist Leaders to explore current and future needs connected with our Congregation's demographics and
To provide a network for those who are employed to provide care for and to walk with our elders.