Julian's Story 1832 – 1889
All created things give us ideas and glimpses of the beauty of the infinitely beautiful Creator.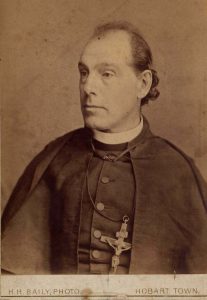 Julian Edmund Tenison Woods was born in Southwark, England, on 15 November 1832. He was the fifth surviving child of James Dominick Woods and Henrietta Maria St Eloy Tenison. From his family Julian developed a great love of learning, of nature and of the outdoors.
As a young man he felt a strong call to serve God as a priest. At eighteen years of age he joined the Passionists in England, entered their novitiate in February 1851, and was professed there in February 1852. He left this Congregation in March 1853 and subsequently travelled extensively in France.
In 1855 at the age of 23, Julian arrived in Tasmania where he worked as a chaplain to the convicts and also as a teacher. After three months, he left Hobart, travelled to Adelaide and there resumed his studies for the priesthood. He was ordained by Bishop Francis Murphy on 4 January 1857.
Father Woods' first parish, Penola in South Australia, had an area of 57,000 square kilometres. In this vast landscape, the zealous young priest travelled on horseback to visit his parishioners, meeting many interesting persons en route. One was young Mary MacKillop, who arrived just as he was struggling to obey his bishop's command to establish schools for the Catholic children of his parish. Catholic teachers were unavailable and so he decided to found a new religious order of teaching sisters to bring Catholic education to the children of poor families. In 1866, Mary willingly accepted his invitation to become one of its first members. And so began the Sisters of Saint Joseph.
Continue reading
In 1866, Bishop Sheil appointed Father Woods to be the very first Director of Catholic Education in Australia. Consequently, he moved to Adelaide where he worked until 1871. The Sisters of Saint Joseph proved to be the backbone of the Catholic Education System he and Bishop Sheil had established there. Father Woods faced many difficulties and left the diocese permanently in 1872. Thanks to Mary MacKillop's strength of character and leadership, however, the Sisters of Saint Joseph have survived until the present day.
During the years 1874-1876, Father Woods was a much loved missioner in Tasmania. It was during his first year on the island state that he founded the Sisters of Perpetual Adoration in Brisbane.
From 1883-1886, Father Woods worked as a scientist in Malaysia, Borneo, Hong Kong, Japan, on Royal Navy survey vessels and in the Northern Territory. His great love for science and the arts enabled him to enjoy, and benefit from, these years of relaxation and study.
In May 1887, when his health began to seriously deteriorate, Father Woods returned to Sydney. He was cared for by a group of women, led by Gertrude Abbot, at 561 Elizabeth Street, and it was here that Father Woods died on 7 October 1889 at the age of 56.
In 1888, Father Woods was awarded the Clarke medal for 'distinguished service to science'.  This was a great achievement, but an even greater one was his founding of two religious congregations – the Sisters of Saint Joseph with Mary MacKillop, and the Sisters of Perpetual Adoration.
Many people mourned the death of Father Woods the missioner, mystic, founder, scientist, journalist, explorer, and priest of God [1], especially Mary MacKillop, the Sisters of Saint Joseph and the Sisters of Perpetual Adoration.
Mary wrote:
How appropriate is the last resting place of the gentle learned priest and naturalist! … There, on the hillside overlooking the Pacific, which washes far below the rocky cemetery, and murmurs a perpetual requiem in its own soul-stirring music, the mortal remains of Father J E Tenison Woods await the resurrection. [2]
Professor Liversidge in his address to the Royal Society said that Julian, '"… was an accomplished scholar, an excellent linguist, a good musician and an artist of considerable ability…  He was characterised by great simplicity, courtesy, and quietness of manner, a quiet cheerful voice, and a ready kindly smile." [3]
References:
[1] No Ordinary Man by Isabel Hepburn rsj
[2] Julian Tenison Woods: A Life by Mary MacKillop (2010) p. 238
[3] Julian ET Woods by George O'Neill, p. 397
Please note permission is required for use of ALL images and text in the Sisters of Saint Joseph website.