"There, where you are you will find God"
These words of Mary MacKillop in 1871 and the teaching of Julian Tenison Woods 'for us to have faith in God's presence in every circumstance', sum up what spirituality is for the Sisters of Saint Joseph.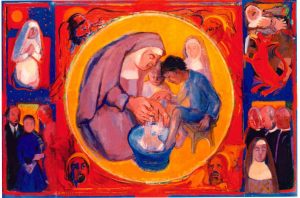 Spirituality is the name we give to the inner quest as the human heart seeks meaning and recognises that there is a dimension of life that leads us to the Transcendent, the Other, our God.
For all of us this is a unique search that flows from the life experiences that shape and influence us.
Since the time of Mary and Julian, Josephite Sisters and others have reflected deeply on the spirituality of these two.
A spiritual tradition has developed and resonates in the hearts of many people today.
This tradition has highlighted the core and essence of 'being Josephite' as:
Reverence for the dignity of all;
Humble and compassionate;
Service of those made poor;
Courage in the face of adversity.
Page last updated July 2018