September 4, 2018
Pilgrimage is a ritual journey with a hallowed purpose. Every step along the way has meaning. The pilgrim knows that life giving challenges will emerge. A pilgrimage is not a vacation; it is a transformational journey during which significant change takes place. New insights are given. Deeper understanding is attained. New and old places in the heart are visited. Blessings are received, and healing takes place. On return from the pilgrimage, life is seen with different eyes. Nothing will ever be quite the same again.
Each year since 1994, the Sisters of Saint Joseph of the Sacred Heart have offered the people of Australia the opportunity to go on pilgrimage, "Walking in the Footsteps of Mary MacKillop".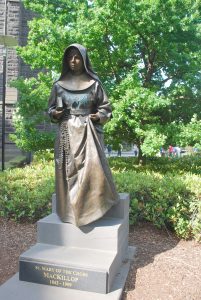 Our journey, commencing in Melbourne, takes us to Hamilton, Portland, Penola, Robe, Adelaide and North Sydney. At each place we have the opportunity to hear the story associated with that place. More important, however, is the time taken to reflect on the deeper meaning of the story – how it formed Mary; how she discerned her call; how she grew in her trusting in God to provide what was needed; the joys and sorrows she experienced; her courage, strength and compassion; her tenacity and resilience; "how she lived her life from a window of possibility rather than limitation."[1] The pilgrims are then invited to reflect on their own life and the presence of God within their life and the life of others. Through story, reflection and prayer the pilgrims are called to open themselves to a deeper response to the world in which they find themselves.
Pilgrimage can be life-changing. It can be a time of letting go; a time of reconciling; a time for gaining a new sense of awareness and wonder; a time resulting in a greater sense of our life's purpose. It may also help us to focus on 'what really matters', to have a greater appreciation of life's gifts.
As Diarmuid O'Murchu says:
The challenge for all on pilgrimage is to restore something of the integrated nature of spiritual growth, to help us humans to reconnect with our inner capacity for mystery, beauty, harmony, order, love and God, and rediscover the spiritual power which animates and sustains all life in the universe.
Why not think about joining us on pilgrimage this year!
Information as follows:
"Walking in the Footsteps of Mary MacKillop"
Tuesday 23rd October – Saturday 3rd November, 2018
Phone: Therese Leydon rsj 0417 683 123 or Annie Bond rsj 0406 195 861
View brochure and application form: Australian National Pilgrimage
We are but travellers here.
[1] Quote obtained from book: Mary MacKillop – A Window of Hope by Monica Cavanagh rsj.