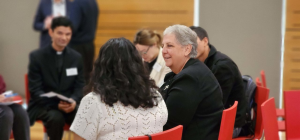 All Sisters of Saint Joseph Board Chairs and Directors are asked to participate in corporate induction, and initial and ongoing Formation. This is intrinsic to witnessing each person's commitment to, and engagement in, Sisters of Saint Joseph Works. The Sisters of Saint Joseph will ensure that adequate Formation is provided to all those with governance responsibilities.
Formation will be used as part of Induction as well as Formation Days and other gatherings that will enable Board Directors to network and learn from Directors of other Works.
The Sisters of Saint Joseph's Formation is:
grounded in God's mission
a means to evoke a personal response to our baptismal call, inspired by the lives of the Congregation's founders, Mary MacKillop and Julian Tenison Woods
centred in seeking right relationships with First Nations peoples
an invitation to respond to the 'cry of Earth and the cry of people'
inclusive in our response to reach out to those who are vulnerable, in need, victims of discrimination, without a voice, living on the margins
respectful of diversity in race, religion, culture and gender
shaped by contemplative dialogue and reflective action
collaborative in its approach
cognisant of different learning styles
appreciative of the past, present and future and the evolving nature of spirituality, global realities and Sisters of Saint Joseph Works
supported by a range of resources
immersed in justice, fairness, respect and dignity for all
guided by Catholic Social Teaching and gospel values
focused on building capacity with those whom we serve.
Throughout your time as a Director you will:
be introduced to aspects of the lives of our founders, Mary MacKillop and Julian Tenison Woods, so that with continued discussion and reflection, you will be inspired to work collaboratively for the future of the Sisters of Saint Joseph
be empowered to live out the vision, values and mission of Sisters of Saint Joseph Works in response to contemporary, global and cultural realities
be immersed in different types of prayer and reflective practices
engage with and develop skills in reflective dialogue processes
understand relevant principles of scripture, Christology and contemporary theology
identify your own personal response to stewardship and leadership within a Josephite context.
Access the Formation Framework booklet to help guide your formation journey.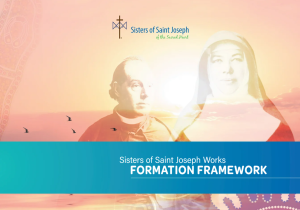 Access the Formation Guide for Chairs and Directors of Sisters of Saint Joseph Works designed to assist Board Chairs and Directors in understanding formation. It also provides practical guidance on when and how to conduct formation activities, suggestions for additional resources and further reading.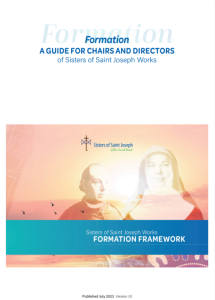 It is only when we take time to listen and reflect through Formation opportunities that we are able to embrace our place in the Sisters of Saint Joseph ongoing story.