September 8, 2019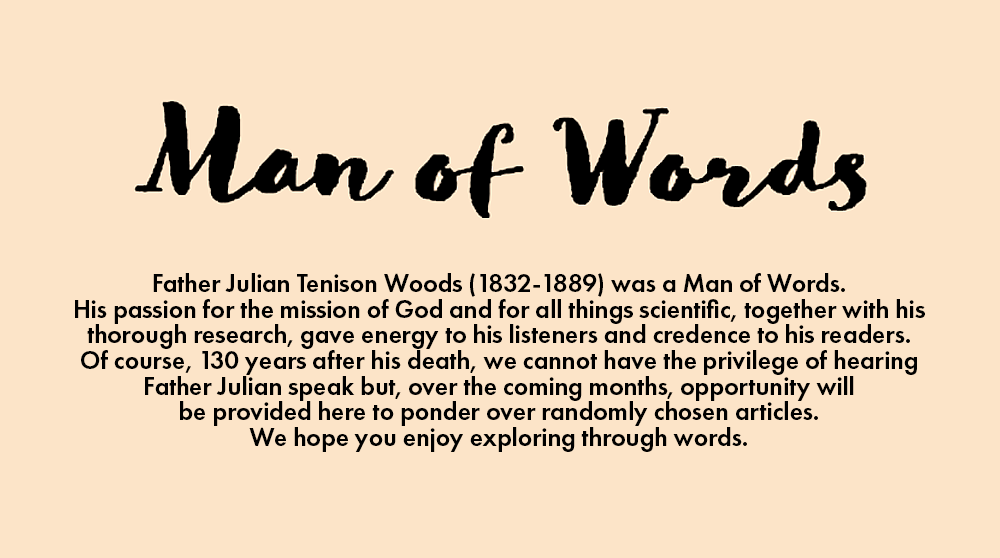 Despite all his other commitments, Father Julian Tenison Woods wanted people in the Catholic community to be aware of what was concerning and influencing the Catholic Church in the 1860s. This month we explore his role as editor of the first Catholic journal in South Australia.
In the 21st century there are multiple ways for Australian Catholics to find out what is affecting the Church throughout our country and world. This was not the case in South Australia in the latter part of the 19th century. Father Julian Tenison Woods was convinced that Catholics needed to be aware of happenings relevant to the Church in Europe as well as locally. Despite all his other commitments, he and local Vicar General, Father Patrick Russell produced a newspaper that provided much-needed communication in a way that seems to have been respected by both Catholics and non-Catholics alike.
On 20 September 1869, the first edition of The Southern Cross and Catholic Herald was published, with Father Woods as editor.
In his first editorial, Father Woods wrote:
This first number of 'The Southern Cross' is the only attempt ever made by the Catholics of South Australia to have a little journal of their own. The want of such an organ has been felt for a long time—but two things impeded the attempt. It was doubted on the one hand whether our Catholic population was sufficient to support such an undertaking, and there did not seem on the other hand to be much chance of getting a good permanent staff of contributors. These doubts have now vanished, and the work is begun… First of all, it is not a political venture. As Catholics we have no political interests which differ from the rest of the community. Peace, order and the religious well-being of society is what we desire. The laws of the colony, with one exception, do not affect us more than any others. We live in a delightful harmony as far as not interfering with others, and we shall never ask a higher privilege than to be let alone. … It is true that we shall always protest against our present Education Act and we should feel justified in opposing any similar legislation by which our conscientious tenets are infringed upon; but, though we are no small proportion of the population, we can do no more than protest against such a measure, and, by reasoning, try to influence the sense of justice and equity which we know our fellow colonists have at heart. This is the only political action we are likely to take.
[i]
As the Catholics of the colony increased in numbers and influence, the need for a more regular paper became apparent. A new weekly publication, the Irish Harp and Farmers Herald, began in opposition to the Southern Cross which then folded. Subsequently, Father Woods took on publishing a penny monthly paper called the Chaplet, to promote devotions and pious practices. This ceased publication when he left the colony.
It is interesting to read the history of these early Catholic Papers in South Australia. The Irish Harp survived until 1875, only to be followed by The South Australian Tablet which survived for less than two years. Then came the Catholic Monthly which suffered a similar fate, and finally The Catholic Record which lasted from about 1881 until mid-1889 when several leading Catholics, including the Hon. J.V. O'Loghlin, undertook to resurrect the Southern Cross.
Articles about the history of the Southern Cross make fascinating reading e.g. those that mark 25[ii], 40[iii] and 60[iv] years of publication. Examples of the content of early editions can also be found. [v]
The following quote shows how Father Woods used his role as newspaper editor to further his ministry among the people of South Australia:
A man of many parts was Father Woods, as these old papers show, the champion of the poor, the helpless and oppressed; a scientist of repute, his scholarly lectures were freely given in the cause of charity, and a poet of no mean achievement, as the "Poets' Corners" of the old papers bear testimony. Many devotional verses appear there above his initials…
[vi]
It leaves me wondering how he would use digital technologies for consciousness raising and meaningful communication if he were with us today.
Carmel Jones rsj
Footnotes:
[i] http://nla.gov.au/nla.news-article167725484 Southern Cross (Adelaide, SA : 1889 – 1954), Friday 8 July, 1949 page 8
[ii] http://nla.gov.au/nla.news-article167793883 Southern Cross (Adelaide, SA : 1889 – 1954), Friday 3 July 1914, page 10
[iii] http://nla.gov.au/nla.news-article167044030 Southern Cross (Adelaide, SA : 1889 – 1954), Friday 9 August 1929, page 10
[iv] http://nla.gov.au/nla.news-article167725484 Southern Cross (Adelaide, SA : 1889 – 1954), Friday 8 July, 1949 page 8
[v] http://nla.gov.au/nla.news-article167755493 Southern Cross (Adelaide, SA : 1889 – 1954), Friday 2 April 1926, page 19
http://nla.gov.au/nla.news-article196727858 Evening Journal (Adelaide, SA : 1869 – 1912), Monday 28 June 1869, page 3
https://nla.gov.au/nla.news-article207705681 The Express and Telegraph (Adelaide, SA : 1867 – 1922) Mon 29 May 1871, page 3
[vi]  http://nla.gov.au/nla.news-article167755493 Southern Cross (Adelaide, SA : 1889 – 1954), Friday 2 April 1926, page 19