October 7, 2019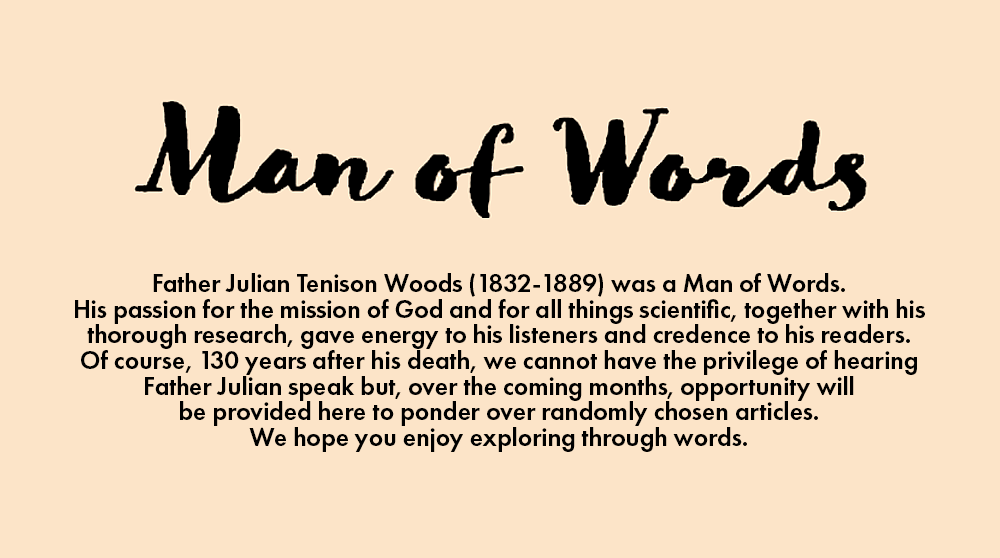 130 years ago, on 7 October 1889 Father Julian Tenison Woods died at 561 Elizabeth Street, Sydney. He was only 56 years old. This month we provide opportunity to explore some of the articles that appeared in newspapers across Australia at that time.
WOODS – October 7, at his residence, 561 Elizabeth-street, the Very Rev Julian Tenison Woods, in the 57th year of his age and the 33rd of his ordination R I P
[i]
A SOLEMN DIRGE and REQUIEM MASS for the REPOSE of the SOUL of the Late Very Rev J E TENISON-WOODS will be celebrated at St Mary's Cathedral, TO-DAY at 10am.  The funeral cortege will leave the Cathedral for the Waverley Cemetery at 2 pm. [ii] 
These are the simple death and funeral notices that appeared in Sydney newspapers following the death of Father Julian Tenison Woods. Subsequently, newspapers all over Australia noted his passing and extolled his virtues.
All spoke of him as a good and gentle man, earnest in his duties, well known and highly respected. His contribution to Catholic education and the Sisters of Saint Joseph is noted as is his powerful and eloquent style of preaching and his accomplishments as scholar, linguist, artist, musician and writer. Many list his scientific essays, papers and books and the awards he was given for his research. The Sydney Mail, the largest Illustrated Weekly Newspaper published in Australasia at the time, even featured a pencil portrait of Father Julian.
One tribute that perhaps sums up his belief in the close connection between science and religion says:
The only reward this patient devotee of Knowledge – this earnest investigator in the arcana of Nature – yearned for was some ever new manifestation of the immanence of God in Nature, and very often, happily, he attained this delightful reward….Such was Julian E Tenison-Woods – a man whose remembrance his friends and the scientific Australasian world generally will not willingly let die, a man whose memory, if young Australia possess any aspirations beyond the development of brawn and the deification of sport, should shine for many a year to come like a fixed firmamental star secure in the esteem and admiration of us all. [iii]
Why not peruse the articles listed here and see what you think?
Carmel Jones rsj
Footnotes:
[i] The Evening News, Tuesday 8 October, 1889
[ii] The Sydney Morning Herald, Wednesday 9 October, 1889
[iii] Illustrated Sydney News 17 October 1889 page 12